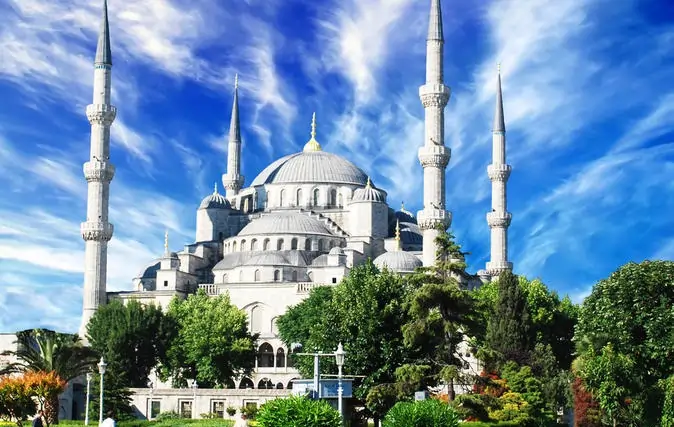 Now that you are a traveler of Istanbul and on your way to this lovely city, it is good to know a little about the sights of this city; A city adjacent to the Black Sea in the north and the Sea of Marmara (Aegean) in the south. A metropolis where the past, present, and future are combined, and this intermingling gives it a lovely and mysterious face that attracts many travelers to Istanbul every year.
This old city has many buildings, museums, parks, and attractions. But if you are traveling with a tour and want to know where you will visit on the Istanbul tour and learn a little about its geography, let's say this: the Bosphorus strait divides Istanbul into two European and Asian parts. The Golden Horn Bay divides the European part of Istanbul again into two parts, the famous Galata Bridge crosses over this bay, and many drivers and pedestrians pass through it during the day and night.
Well, now that you almost know where you are in Istanbul on the planet, it's time to explain the sights of this city that you can see during the Istanbul tour. Because the number of these attractions is vast, we will categorize them first and then introduce some of them; depending on your taste, you can choose some or all of them during your Istanbul tour and enjoy visiting and watching them. Mosques and historical monuments, museums, recreational places, and natural attractions are the sights of this city that you can visit during your Istanbul tour according to your time and taste. The following article from Nabtrip entertainment tourism magazine will explain each attraction.
Historical monuments of Istanbul
Many of Istanbul's historical monuments and sights are located in the European part of this city and the Fatih and Sultanahmet areas. Mosques and palaces play a significant role in the attractiveness of this list. You, the traveler of the Istanbul tour, can plan better by reading this suggested package we have prepared for you.
Istanbul mosques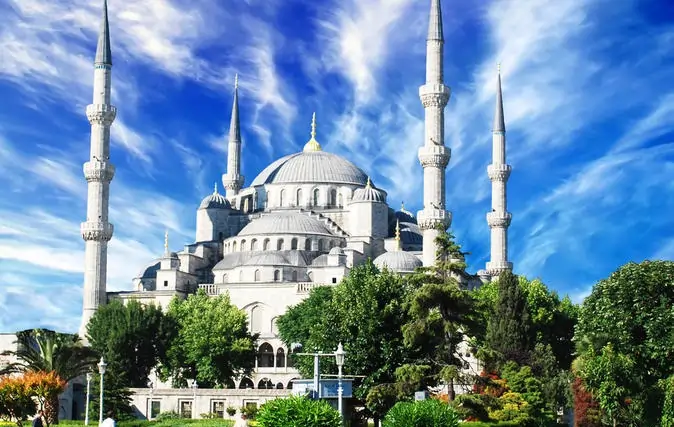 Hagia Sophia Mosque
This building was originally a church built by the order of Constantine the Great in the 6th century AD. In the 15th century, the Ottoman kings turned this church into a spectacular mosque by adding minarets. This mosque, which we recommend to Istanbul tour travelers, is located in the Fatih area, and you can reach it by tram, metro, and bus.
Sultan Ahmed Mosque
Don't miss seeing this beautiful building during your Istanbul tour. Sultan Ahmad always wanted to build a mosque to compete with Hagia Sophia and succeeded. This mosque is one of the main attractions for Istanbul tour travelers in the Sultanahmet neighborhood. Don't miss this mosque on your Istanbul tour.
Sulaymaniyah Mosque
The beautiful Sulaymaniyah Mosque, with its attractive dome and minarets, is located in the western part of Golden Horn Bay. This mosque was designed and built in the 16th century by the architect Sinan, one of the prominent architects of the Golden Age of the Ottoman Empire. In the gardens of this mosque, the tombs of Sultan Suleiman and his wife Khorramsultan are located so that the Iranian travelers of the Istanbul tour can get to know these historical figures well. The tomb of Memar Sinan is also built near this mosque.
These are only a tiny part of the mosques of Istanbul. You can find more mosques by searching more and spending your Istanbul tour more productively.
Palaces of Istanbul
In the following, we will introduce the famous palaces of Istanbul.
Topkapi Palace
It is one of the famous Ottoman palaces and was built by order of Sultan Mohammad. This palace has a beautiful view of the Bosphorus Strait. This palace has been turned into a museum, and exquisite works are kept there. We promise Istanbul tour travelers that literary and artistic works from Iran can also be seen in this palace. This building is located in the Fatih area.
Delmabaghche Palace
It is located on the European coast of the Bosphorus. This palace has a lot of honors and glory; the beautiful four-and-a-half-ton chandelier with 750 lamps is stunning and impressive. The founder of the Republic of Turkey, Atatürk, lived in Delmabaghce Palace and died in this palace in 1983. This beautiful palace is located in the neighborhood of Besiktas, and you, the traveler of the Istanbul tour, can access it by public transportation such as the metro and bus.
Chiraghan Palace
This palace is located on the shore of the Bosphorus Strait. In 1871, Sultan Abdul Aziz ordered the construction of Chiraghan Palace. It took four years to build this palace, and much gold was spent on it. This palace, which was in ruins for many years, was revived with general repairs and turned into a luxurious five-star hotel today hosts many travelers worldwide. It would be nice to stay in this luxury hotel during the Istanbul tour.
These were a small part of the palaces of Istanbul; you can visit other beautiful castles, such as Aynali Kavac, Bilerbi, Filizli, Maslak, etc., during your trip.
Istanbul museums
In the following, we will introduce the essential museums of Istanbul.


Rahmi Koch Factory
This museum was opened in 1944 by Rahmi Koch, a famous Turkish millionaire, on the shore of Golden Horn Bay and in the Haskoy neighborhood. Many works in land transportation, sea transportation, air transportation, communication, engineering, and scientific instruments have been collected in this museum. If you are on a tour of Istanbul and are interested in classic cars, do not miss this museum. In this museum, classic cars belonging to famous people, old models and dolls, luxurious boats belonging to the glorious past, and… have been collected. This museum is located in the Haskoy neighborhood near Beyoglu.
Innocence Museum
Orhan Pamuk, a famous Turkish writer, and Nobel Prize winner, founded this museum based on a novel of the same name. This museum narrates the life of Turkish people, especially Istanbul, in the 1950s, 1960s, and 1970s. The Museum of Innocence is located in the Beyoglu neighborhood and near Taksim Street, and we highly recommend visiting it to travelers interested in literature and fiction.
Museum of Islamic Arts
This museum's building, located in the Fatih area, is one of the essential works of Turkish architecture. This museum presents a valuable treasure of Turkish religious arts to you Istanbul tour travelers. This museum used to be the palace of Prime Minister Sultan Suleiman Osmani.
Istanbul Museum of Fine Arts: If you are on your way to Istanbul and are also interested in art history, visit this museum in your schedule. Istanbul Fine Arts Museum is located in the Besiktas district, and you can see paintings and calligraphy from the 19th century to the present.
Istanbul Museum of Modern Art
It is one of the most famous museums in Istanbul, which is visited by art lovers worldwide and other tourists. Istanbul Modern Museum, known as "Istanbul Modern," is located on the Bosphorus coast and Beyoglu neighborhood. This museum contains valuable works of modern painting, sculpture, photography, video art, and other art fields. Whether traveling on an Istanbul tour or alone, you can quickly go to this museum by tram and enjoy watching modern art.
Istanbul resorts
We have a complete list for you, dear traveler, who is on your way to Istanbul and would like to have some fun along with sightseeing and shopping. Istanbul has many parks and recreation areas, but occasionally it surprises everyone by opening a new recreation area like the newly established Vialand amusement park. The following will introduce famous entertainment places you should not miss during your Istanbul tour.
The Prince's Islands complex
Among the waters of the Marmara Sea, there are nine small and big islands, which are called Shahzadegan Islands. These islands, among the most popular attractions among Istanbul tour travelers, were the place of princes' exile during Roman rule. The rich people of Istanbul have built beautiful houses on these islands, which they use as summer residences and car traffic is prohibited on these islands. Buyukada Island is the largest island of this complex, where Istanbul tour travelers, like other tourists and residents, can explore this beautiful island by renting a boat or bicycle. Kenyali-ada is another of these islands, which has good beaches for those Istanbul tour travelers who are interested in swimming and sunbathing. Among the other famous islands of this archipelago, we can mention Kenyali, Sadaf, Bourgaz, and Hibli-Ada. From Kabataş and Eminuno piers, you can go to these islands with special passenger ships that depart every fifteen minutes.
Vialand amusement park
Vialand Istanbul amusement park, with an area of one million square meters, is the largest amusement park in Istanbul, located in the Golden Horn area and 13 kilometers from Taksim Square. Vialand has also gained many fans among Iranian travelers on Istanbul tours. There is also a shopping center, water park, hotel, and restaurant in this amusement park or, instead, this entertainment town. From the game equipment of this park, we can mention the roller coaster, jet ski, horror tunnel, cinema, bowling, water park, etc. To go to this complex, there is a free service every day in Taksim Square. If you want an exciting experience during your Istanbul tour, visit Vialand.
Istanbul water parks
Istanbul has two water parks, Aqua Marine and Aqua Dolphin. The first one is just the water park, and in the second one, in addition to the water park, you can also enjoy the dolphin show. Both water parks have a shuttle service every morning at 9 am in Taksim Square, near the Atatürk Cultural Center. Istanbul tour becomes much more fun with the water park experience.
Istanbul Aquarium
Turkuz Aquarium was opened in October 2009 in the Istanbul Forum shopping center and Bayram Pasha area. Not long after the opening of this aquarium, it became one of the biggest tourist attractions in Istanbul. Over ten thousand fish species and different sea animals are kept in this aquarium. Istanbul tour passengers can also go to this aquarium by subway, taxi, and tram, walk along an eighty-meter corridor, and watch sharks, table fish, and various rare fish swimming around you.
Istanbul miniature park
This park is located northeast of Golden Horn Bay and was opened in 2003. If you have children on your Istanbul tour, visit this park. Replicas of famous buildings from all over Turkey are collected in this park, half of which belong to Istanbul. This park has a beautiful and pleasant atmosphere, and Istanbul tour travelers can access it by public transportation like other tourists.
Esteghlal St
It is the most famous street in Istanbul, where nearly three million people walk or cross it daily and at night in the summer. Step by step, this street has shops, restaurants, and cafes, and you can hear music at any hour of the day or night. This street is the best option for shopping and entertainment on the Istanbul tour. On this street, you can see tourists of different nationalities and races from all over the world. An old and nostalgic tram transports tourists from Taksim Square to the end of this street for free, but if you feel like it, take a walk, which is even more fun. It has been seen that some Istanbul tour travelers who stay in hotels near Taksim spend most of their time on this street.
These are all part of the entertainment that you can experience in Istanbul. Depending on your mood or taste, you can find other joy or even provide entertainment. For example, if you walk along Kennedy Street by the sea, you will see boats you can rent by the hour. You can rent a boat with your family or friends and ask the captain to take you to pristine and beautiful sea places for swimming and sunbathing. In the Asian part, there are many parks and entertainment places that you can visit during your Istanbul tour. For example, Istanbul tour travelers talk much about Baghdad Street after Esteghlal Street. This street is in the Asian part of the hangout of the rich people of Istanbul. It is a beautiful street with luxurious shops and restaurants where the people of Istanbul go sightseeing and shopping in the evenings.
Natural attractions of Istanbul
The weather and the surrounding seas have made Istanbul a natural attraction. Still, if you are looking for a nature excursion or camping, you will find many places around Istanbul to enjoy the beautiful nature during the tour of Istanbul. In the following, we will introduce some of nature's stunning effects.
Belgrade forest
This forest, twenty kilometers from the center of Istanbul, has an area of nearly 6000 hectares. In the past, immigrants from Belgrade lived in the village next to this forest, known by this name ever since. Belgrade Forest, with its mineral water springs and native animals such as deer and moral, is a place of recreation and picnic for the people of Istanbul on holidays, and it is considered an ideal place for all kinds of nature tourism activities such as hiking, camping, etc., and it has beautiful nature and old trees.
Polonskoye village
This beautiful villa area is located in the Asian part and is 25 kilometers from Istanbul. In the 19th century, Polish immigrants discovered and settled in this area. The people of Istanbul go to this area for horseback riding, walking, and enjoying traditional Polish food. Although it is a bit far, if you have enough time for your Istanbul tour, you can go to Polonzkoy for fun.
Chamlija hills
Chamlija hills in the Asian part of the city are known as the roof of Istanbul. If you go to the Asian side of the city during your tour of Istanbul, from the top of these hills, you can see the Bosphorus Strait, the European part, and the port and ships docked in the harbor and Bogaz bridge. Chamlija is also an ideal place for taking pictures of Istanbul. The people of Istanbul come to these hills to have fun, watch, and sometimes get inspiration for poetry and stories. It is not bad if you would like to see the Asian part of the Istanbul tour, climb these hills and watch this city from above.