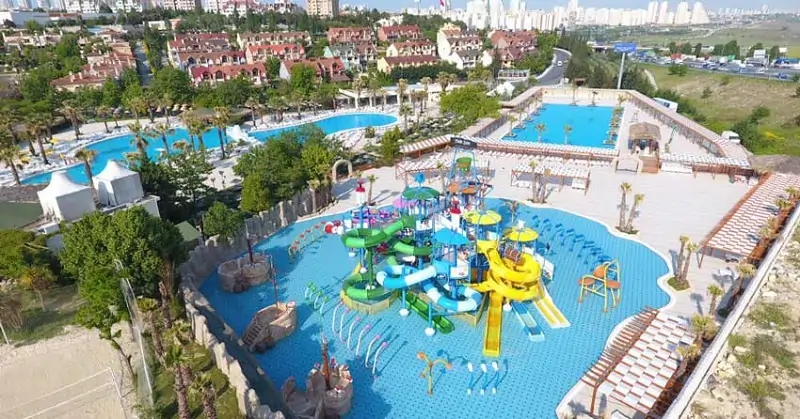 Although Istanbul is a city of all seasons, its summers are another world. This coastal city, which rests next to the Bosphorus Strait and the Sea of Marmara, has more than 20 beaches for swimming. But it is not only these beaches that make this city an ideal option for summer trips for the whole world; Istanbul's well-equipped water parks are a world in themselves.
Istanbul has palaces, mosques, Istanbul museums, and various shopping malls, which, along with its water parks and famous beaches, have made this city a popular destination. If you want to know more about this metropolis, let's go to the main topic and the best water parks in Istanbul. We also introduce Istanbul water parks and their facilities to you. Follow Nabtrip Tourism magazine.
Aqua Club Dolphin Istanbul Water Park
First, remember that these parks should not be confused with the Istanbul Aquarium. Even the thought of sliding down the high waterfalls in the sky and falling into the pool excites one, let alone the experience of these pleasures. Traveling to this water park with your children will probably create one of their best and most exciting childhood memories. However, the children inside the adults will not be less than the children having fun in this park.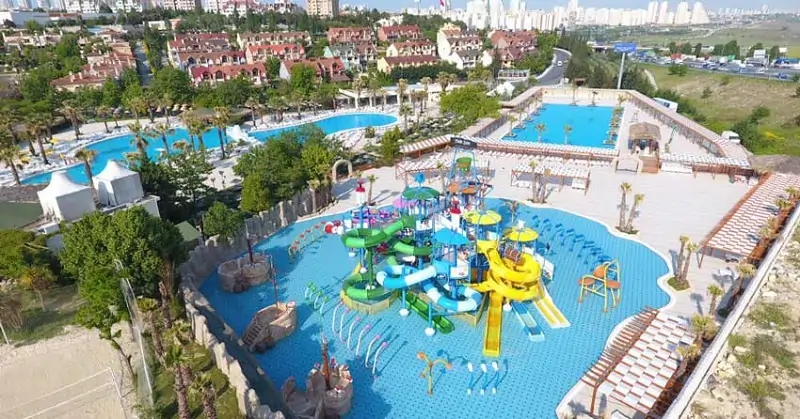 Dolphin Club Istanbul Water Park was opened in 2011 and is still the largest water park in Istanbul. This water park has not failed to provide water games and fun on a summer day, From all kinds of slides and pools and tsunamis to a water polo pool, beach volleyball, and tennis court. Swimming pools for children and adults are separate, so children can enjoy this fun more with their peers.
As you can guess from its name, this water park also has a unique pool for dolphins. In this part of the park, you can see the performance of dolphins and sea lions and take souvenir photos with them.
Time to start working
As the weather starts to warm, i.e., from May, Aqua Dolphin Istanbul water park starts working and is active until summer. You can travel to these parks and enjoy their entertainment by booking an Istanbul tour.
Park entrance
Entrance to the park is free for children from 0 to 4 years old. The amount charged for children aged 5 to 12 is half the adult entrance fee. The water park is trendy on weekends, so the price increases on Sundays (Turkish weekend).
Other park services
After all that excitement and jumping up and down, it's time for a cool drink or delicious food to prepare yourself to enjoy all the excitement again. Cafes and restaurants of Dolphin Water Park in Istanbul serve delicious and high-quality food and beverages, but tripadvisor.com users say that the food prices are a bit expensive. So if you want to end your visit to the water park on a budget, you can prepare a sandwich in advance and take it with you.
One of the good features of this park is that it has free service from some famous tourist centers in Istanbul, such as Taksim Square, to the park itself, and you need to know the departure time of these buses. Visit the official website of Istanbul Water Park to find out the service departure time and the updated prices for the Dolphin Club Istanbul Water Park entrance.
Dolphin Club water park address on Google Map
Istanbul Aquamarina Water Park
Swimming and summer fun is over here. Suppose you think your adrenaline is low and must immerse yourself in excitement. In that case, treating yourself to unforgettable thrills at Aquamarina Water Park in Istanbul is better.
This water park is located in the European neighborhood of Buyukcekmece, Istanbul, one of the luxurious and stylish areas. Aquamarine Water Park is outside the city and is situated behind Ataturk Airport. You can use free shuttle services if you don't want to get to this water park by taxi or online.
From 8:30 am to 10:00 am, the park services transport passengers for free. But it is better to know that only the outgoing service is free, and you must pay the return fare. Return services start at 5:00 pm.
Park facilities
The facilities of this park are different from Istanbul attractions, such as slides and pools for other traditional groups, and therefore this park is an excellent option for family fun. Each family member can have fun according to their age.
Beach chairs and umbrellas are arranged next to the adult swimming pools, and you can relax and sunbathe after swimming. Types of pools in Marina Park include the Olympic, children's, and large and small pools. Next to the collections is a DJ who plays music suitable for the mood and gives more excitement to your summer day.
Different types of black water holes, crazy rivers, giant slides, recreational baths, and free falls into the water are other entertainments of this water park. This park can receive 3000 visitors every day.
Park entrances
The entrance to the Istanbul Aquamarine water park is free for children from 0 to 4 years old, just like the Dolphin Club water park. You can also see the entrance price for men and women during the week and the weekend from the main website of the Aquamarine Water Park.
Location of Aqua Marina water park on Google Map
VIALAND Tema Park in Istanbul
The name of this water body has been changed from Vialand to Isfunbul. The construction of this water park started in 2011 and took two years. Vialand amusement park and water park is one of the largest amusement parks in Istanbul, one of the best theme parks in Turkey, and one of the best water parks in this country.
This is not only a proper water park but also ranked fifth among the 800 theme parks in Europe in 2015.
Sfanbol is a recreational city in the true sense of the word, where big and small families can have fun for hours and spend exciting moments. Among this park's exciting facilities and amusements, we can mention the breathtaking train, 360 rotation, wild river, Viking slide, tower of justice and adventure, and little tourist train.
little tourist
In the Little World Tour adventure, your child enters a tunnel. Inside this small tunnel, children conquer the world as if they were sitting on a small boat. They travel from the East to the West, leaving the earth under their feet in this tunnel.
Engardibirds game
You know the famous Angry Birds game and have probably played it many times. Now, in this amusement park and water park, with 3D lighting and images of the main characters of this game, they have created a real world of crazy birds. Disabled people can also enjoy the world of crazy birds in the amusement park.
Old Istanbul
Here, the streets and alleys of old Istanbul have been simulated. So if you are interested in history, don't miss this opportunity. Walking in the galleries and streets of old Istanbul, you are walking in history.
It doesn't matter if you are interested in the History and archeology museum of Istanbul if you are interested in the Art and modern art museum of Istanbul, or you are interested in various entertainment and excitement, whatever your taste, traveling to Istanbul and visiting this amusement park will appeal to you.
Facilities of Vialand Park Istanbul
One of the intexcitingatures of this collection is Zoom bracelets. Since you cannot bring your phone inside the water park, W these bracelets, you can remember the exciting moments of sliding down tall waterfalls and all other entertainments in the film and photo collection.
Souvenir shop: In Theseops sell small, colorful items such as dolls and trinkets. At the end of a day full of memories and happiness, you can buy souvenirs from these parts of the park.
Amusement park train: This amusement park and water park is so big that you might not be unable walk around it. But the amusement park train will take you everywhere in this city full of memories,d you can visit evearoundthout getting tired.
Shuttle service to the amusement park: Like the other two water parks in Istanbul, there is a shuttle service for visitors. You can board these buses at the stations of different areas of Istanbul su, ch as Sultanahmet, Şişli, Beşiktaş, Taksim, Kadıköy, etc.
Location of Vialand Water Park on Google Map
Tuzla Marina Water Park Istanbul
Istanbul is a city that has many prominent and famous water parks, But Tuzla Marina is the biggest of them, with an area of 15,000 square meters. If you are adventurous and not afraid of heights, visit Tuzla Marina Water Park; This water park is one of the best and most famous in Istanbul and has the highest tube slide in Europe.
The Marina Water Park tube slide is about 25 meters high, making this attractive park more popular. You cannot experience the thrill of being thrown from a height of 25 meters into the pool in other water parks in Turkey; So, so I suggest you put this park on your sightseeing list.
Tuzla Marina Water Park is known as Marina Aqua Park and Tuzla Water Park. This water park is located near Tuzla Beach in Istanbul; So, many tourists call this park Tuzla Water Park. This park was built in 2019 in the Asian area of Istanbul.
Time to start work
Tuzla Marina water park works from 11 am to 6 pm; If you want a day full of excitement with lots of sports and games, go there in the morning. You don't have to worry about lunch; this water park has a 5-star restaurant ready to serve you.
Other park services
Let's go to other Tuzla Marina water park services that are important in choosing a water park.
– 5-star restaurant
A little above, I mentioned a popular 5-star restaurant in the Tuzla Marina water park. One of the rules of Marina Water Park is that you cannot take any food or drink with you into the garden, But the existence of this restaurant does not allow you to endure hunger and thirst, so you don't have to worry.
Seeing that the restaurant is five stars, it is easy to guess that diverse, colorful, and delicious dishes await you. You can hit the water park in Marina and taste the delicious Turkish food.
– Play Music
If you prefer to listen to music while having fun, you are in luck; Because in this Istanbul water park, music is playing all day long. I am sure that piece will multiply the pleasure of your entertainment.
– Water sports
In Tuzla Marina water park, there are 15 water sports, such as jet skiing, banana riding, sidekick, diving, etc.; you can try these sports in addition to sliding and spend your day full of excitement and memories.
– The possibility of coordination for event preparations
You read that right; You can hold special events or parties in this park. You must reserve the beach or pool for your exciting party in advance on the Aqua Park website.
Park rules
Men over 15 are not allowed to enter Marina Park without accompanying women; The park officials try to maintain a family atmosphere so that no one is disturbed.
Refunds will not be made in any way.
Bringing food, drinks, and glass objects to the park is forbidden.
It is forbidden to enter the swimming pool without a swimming cap.
The water park accepts no responsibility for your belongings, So you better be careful.
An adult must accompany children under 12 during the activities.
Pets are not allowed in Tuzla Water Park.
Ticket prices may change without prior notice.
Wearing t-shirts, shorts, and swimsuits while sliding down the slide is forbidden.
Location of Tuzla Marina Water Park on Google Map
Coliseum Sports Club Sariyer
If you are looking for one of the most well-equipped water parks in Istanbul, which includes many water sports, go to Calcium Water Park. With about 12,000 square meters, this park has more water sports than you can imagine. Four large outdoor pools, six spiral slides, and a pool with roaring waves are among the park's most popular features.
You may have heard the name of the relaxation pool from tourists or locals; This pool is located in the Calcium Water Park. Tourists who have entered the middle age period can achieve long-term relaxation by relaxing in this pool. Rock climbing, anaconda slide, waterfalls, and rocket slide are other exciting activities in this park.
Time to start work
Calcium Water Park welcomes you on Sunday from 9 am to 6 pm and the rest of the week from 8 am to 10 pm to raise your adrenaline and make you a memorable day.
Other park services
In addition to being a well-equipped sports complex that includes many water sports, Calcium Water Park is the same water park in Istanbul with many other facilities. Other water park amenities include a cinema, massage parlor, swimming pools for children, spa, and hairdressing salon.
I don't need to say much about restaurants and cafes; Because there is a strong possibility that all water parks in Istanbul have restaurants. Of course, I have good news for those who like Starbucks. The guess is correct; There is a branch of the famous Starbucks cafe in Calcium Water Park.
Location of Calcium Water Park on Google Map
Cevahir Aqua Heybeliada water park
After seeing the name, you may have realized that this water park is on Hibli-Ada Island. Of course, Jawahir is not just a water park full of fun and exciting facilities; This place is a beach resort. The shallowness of the beach in this part of the island has made the Jawahir water park more popular among tourists. Jawahir water park has four pools and ten slides.
Jawahir Water Park, with its various facilities and exciting entertainment, will make you take home another good memory of Turkey's water parks. Of course, sometimes this water park gets crowded, which is normal; Its popularity has made it a lot of souvenir jewelry. If you want to make a memorable memory away from the hustle and bustle of the city center and in one of the best water parks in Istanbul, you must visit Javahir Water Park.
Time to start work
Jawahir Water Park is open every day from 9 am to 7 pm. Since this water park is located on the island, I must say that you should be careful that your return time is in sync with the ship's departure.
Other park services
As I said above, Jawahir Water Park is on the island, so we know we must use a boat or ship to get there. You can use boats that will take you from Bastangi Beach to Hibley Ada Beach. These boats leave at 10:30 in the morning and return to Bastangji Beach at 17:30.
Jawahir Hibli Ada Water Park provides free boat service for its customers. The shuttle will take you from Hibli Ada Beach to the jewelry complex; you must wait a while to use these shuttles.
Other Jawahir Hibley Ada Water Park facilities include sunbeds, umbrellas, changing cabins, lockers, and restaurants. You cannot take food or drinks into the park with you, so when you are hungry, visit the restaurant in this complex and get a hearty meal.