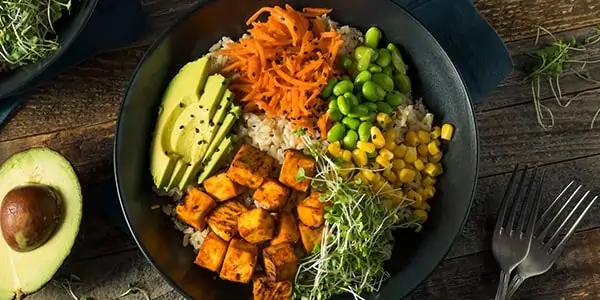 Traveling as a vegetarian is not an easy task. Usually, there is more concern about food than for meat-eaters. Vegetarians often worry about which restaurants serve suitable food and whether they have good taste and reasonable prices! However, if you are traveling to Istanbul, the capital of Turkey, you shouldn't be too concerned about finding delicious and plant-based meals that suit your lifestyle. The best vegetarian restaurants in Istanbul are scattered throughout the city, and they prepare delicious vegetarian food for you.
Galata Kitchen
Galata Kitchen is a small and straightforward café located in the Beyoğlu district of the city. It is run by two mothers who cook delicious, healthy, and affordable meals to ensure no one leaves the restaurant dissatisfied.
The menu at Galata Kitchen changes according to their motto of promoting healthy eating. They offer a selection of homemade soups, antipasti, starters, salads, and main dishes that have a unique and delicious taste. It's worth mentioning that the food is prepared fresh using seasonal ingredients and high-quality oils, and you will be greeted with new dishes every day. Galata Kitchen is undoubtedly one of the best vegetarian restaurants in Istanbul.
Cuisine Type: Turkish, European
Famous Dishes: Chickpeas with vinaigrette sauce, spinach cake, black-eyed pea salad, falafel, and hummus
Opening Hours: 9 AM to 10:15 PM; located near Galata Tower in Beyoğlu
Contact: +90 212 252 20 22
Bi'Nevi Deli Restaurant
This restaurant does not use any animal products in its food preparation. Bi'Nevi Deli, located in the Beşiktaş area, produces dishes using whole foods, plant-based ingredients, and minimal processing.
They have a minimalist café with an outdoor seating area that provides an intimate and tranquil atmosphere for their guests. We recommend visiting this delicious and interesting restaurant even if you're not a vegetarian.
The chefs at Bi'Nevi Deli use seasonal vegetables, fruits, grains, legumes, nuts, and seeds as their main ingredients. They even use healthy oils in cooking to prepare the healthiest dishes for vegetarians and their customers.
By the way, if you follow a specific diet, such as gluten-free or paleo, they have various options for you. Don't forget to try the plant-based desserts at this restaurant.
Cuisine Type: Vegan and Vegetarian
Famous Dishes: Blue Magic cheesecake, lentil bolognese with citrus, Adama bowl, sweet potato polonaise
Opening Hours: 9:30 AM to 9:30 PM; Atılay, Beşiktaş
Contact: +90 (212) 358 6032
Zencefil Cafe
Zencefil is one of the most renowned and best vegetarian restaurants in Istanbul, having earned high ratings among similar eateries. This restaurant opened long before organic diets became popular in Turkey. While in recent years, the menu has undergone some changes, with the addition of a few fish and chicken options to offer more variety, the focus has always been on creating appealing plant-based meals.
Everything is prepared from scratch using the freshest local produce and seasonal ingredients. Alongside the healthy dishes, the restaurant's simple and rustic ambiance, with exposed brick walls, green courtyard, and wooden furniture, provides a comfortable atmosphere. It's worth mentioning that the menu and daily specials are precisely translated into English, turning it into a popular spot for tourists.
Cuisine Type: Healthy, Vegetarian
Famous Dishes: Cold soup with chickpeas, corn, and yogurt; beans with tarragon; eggplant with goat cheese; green lasagna
Opening Hours: 9:30 AM to 11 PM; Beyoğlu, Taksim
Contact: +90 (212) 243 82 34
Falafel House
Falafel House is an excellent and affordable option for enjoying healthy and classic Middle Eastern dishes such as hummus, tabbouleh, full, and falafel. Located in the heart of the Beyoğlu district, near Taksim Square, Falafel House is highly popular among vegetarian tourists and locals.
This restaurant was established in 2006 by two Palestinian father and son, Azam and Youssef El-Herbawi. They prepare healthy and clean plant-based dishes in their own style and offer reasonable prices. These reasons have made Falafel House a beloved and bustling spot. If you're tired from wandering around Taksim Square and don't want to spend much money on food, this is an excellent place to stop by for a satisfying meal and a refreshing break.
Cuisine Type: Middle Eastern, Fast Food
Famous Dishes: Ful (mashed fava beans), falafel salad, hummus, packaged falafel
Opening Hours: 9 AM to 2 PM; Near Taksim Square, Beyoğlu
Contact: +90 (212) 2537730
Kikero Falafel
This small eatery, located on a side street at the intersection of two of the busiest roads in Galata, is one of the best vegetarian restaurants in Istanbul. It's a place that plant-based eaters are always seeking.
The trendy decor with colorful bar stools and tall vintage-style tables gives a good vibe. The menu is very concise, offering only a handful of dishes: falafel, salad, toasted bread, sandwiches, and hazelnut desserts.
All the ingredients for the falafel and salad are plant-based, but the bread and dessert usually contain dairy and are made from fresh ingredients.
Cuisine Type: Lebanese
Famous Dishes: Packaged falafel with hummus, vegetable bread, pesto pita
Opening Hours: 11 AM to 12 Midnight; Near Galata, Beyoğlu
Contact: +90 (212) 2435070
Mahatma Cafe
Mahatma Cafe, managed by Chef Sait Biliz, is one of the few fully vegan places and one of the best vegetarian restaurants in Istanbul. Biliz has put a lot of effort into bringing together all the vegan options with delicious flavors, and to a great extent, he has succeeded.
Now, two years after the opening of his cafe, he claims that most people coming to his cafe to eat are non-vegans. This is a testament to the exceptional taste of Mahatma Cafe's menu. The restaurant serves only seasonal fruits and vegetables, cooked and dressed in olive oil.
The bright and cheerful ambiance with colorful furniture and an outdoor seating area is also a reason for the cafe's popularity. Another exciting aspect is that the entire menu is presented in Braille, which started after Biliz partnered with a visually impaired vegan.
Cuisine Type: Vegan
Famous Dishes: Hummus, Mahatma soup, vegetable burger, Mahatma's special cookies, belly-full patty
Opening Hours: 10 AM to 1 AM; Kadıköy District
Contact: +90 (530) 642 53 96
Community Kitchen
If you're looking for authentic Turkish dishes that are also vegan, Community Kitchen is the place for you. This restaurant serves delicious dishes and desserts inspired by traditional Turkish cooking methods.
They also have a simple and unpretentious setup, making them very popular among tourists and locals. Community Kitchen is known as one of the best vegetarian restaurants in Istanbul for enjoying a healthy meal.
Cuisine Type: Vegan, Healthy Food
Famous Dishes: Vegan İskender Kebab with pita bread and tomato sauce, Vegan Ayran (a traditional Turkish drink made with yogurt)
Opening Hours: 12 PM to 11 PM (Closed on Mondays); Beyoğlu District
Contact: +90 (538) 503 27 36
Are you vegan or believe in eating healthy food?
The best vegetarian restaurants in Istanbul are ready to welcome you. The positive aspect of these places is their use of fresh ingredients and customer-oriented service, ensuring that the dishes are cooked and served with the best quality. So, if you have booked your flight to Istanbul and plan to visit the city soon, we recommend trying out healthy food options.