Turkey is a two-part Eurasian country, the large part of which is called Anatolia or Asia Minor, located in Southwest Asia and the Middle East. The other part is located in the Balkan region (a region of Southeast Europe). Bulgaria borders this two-piece country in the northwest, Greece in the west, Armenia, Georgia, Azerbaijan, and Iran in the east and northeast, Iraq and Syria in the southeast, and the Mediterranean Sea and Cyprus in the south. Turkey is, in a way, the junction of the continents of Asia and Europe, so its culture is a fusion of both Eastern and Western cultures. Türkiye is classified among developed countries, and their system is a republic. This country's primary and official language is Turkish, and the type of government is a republic with a single parliament.
The main design of the Turkish flag is the white moon and star with a red background, which is related to the symbols used by the Turkish Seljuk and Ottoman empires as flags.
Its population is about 77 million people, and its capital is Ankara.
History of Türkiye
Turkey succeeded the Ottoman Empire in 1923 under the leadership of Mustafa Kemal Pasha, known as Atatürk. This empire fell apart due to defeat in the First World War and was invaded by the British. At the same time, Atatürk designed the national resistance against these countries, which resulted in the Republic of Turkey based on the principle of separation of religion from politics. This country became a member of the United Nations in 1946 and joined NATO in 1952.
Turkish customs
The geographical location of Turkey has also influenced the culture and customs of its people. For example, during the Ottoman period, the relations between the Turkish people were formal because, in Ottoman traditions, politeness was emphasized a lot. Although it has become more informal due to dealing with European cultures today, polite expressions and compliments still exist between them.
Turkish cities
Istanbul is the bicontinental city of Türkiye and its largest city—likewise, the country's second tourist hub and the world's third tourist city. Apart from unique historical and natural sights, this seven-hilled city is also famous for its shopping festivals. Most tourists who travel to Istanbul only intend to shop, which is one of the most complete and prosperous shopping centers in the world that operate in this city.
Ankara, the heart of many civilizations, is the capital of Turkey and its second-largest city. It has many tourist attractions, such as historical mosques and old buildings, but it is more famous for having mineral water springs.
Among other important cities of this country, we can mention Antalya, the jewel of Turkey. A town with fantastic and dreamy beaches attracts many tourists and does not tire its passengers under any circumstances. Whether you are a tourist, whether you love shopping, whether you love visiting restaurants and trying the best foods, or whether you love walking on the beautiful sands and water sports, this city has special programs for all of these things.
And Konya, Maulana's tomb. A city that is famous for the dervishes of Merid Molawi and attracts many tourists yearly. As mentioned in Greek mythology, a dragon attacked this city and swallowed a group of women and girls. Perseus, the son of Jupiter, killed the dragon, and the people of the city were freed from its scourge. In recognition of this victory and liberation, the city's people hung the image of Perseus on one of the gates. This name was confirmed during the city excavation from coins on which the idea of Perseus and the dragon was seen.
Cappadocia, Izmir, Alanya, Bodrum, Kusadasi, and Marmaris are among Turkey's most visited tourist cities and have their charm.
Turkish tourism
This country is full of attractions and sights, from the dome and minarets of Istanbul to the Roman ruins on the coast of Antalya. The ancient area of Aspendos or Aspendos Amphitheater, one of the most preserved theaters of old times, is a must-see area. Patara Beach in Antalya is one of the most enjoyable sights in the country because this beach is one of the longest sandy beaches in the Mediterranean and has only one coffee shop. The village next to this beach is also the birthplace of St. Nicholas, the 14th-century bishop of Birance, who later became the legend of Santa Claus.
Take a tour of the beautiful city of Istanbul.
This city is one of the best tourist attractions in the world and attracts many tourists every year due to its pristine historical monuments. You can spend days in this city without getting tired.
Visit the Sultan Ahmed or Blue Mosque.
This mosque is known as the Blue Mosque because of its beautiful blue tiles that are used to decorate its interior walls. The Blue Mosque was built during the reign of Ahmad I, and his grave is also inside this mosque. The Blue Mosque, or Sultan Ahmed Mosque, is one of the most beautiful mosques in the world. It is considered one of the unique and excellent examples of Ottoman Empire architecture. Remember that only worshipers are allowed to enter the mosque during prayers, so if you plan to visit it, it is better to go to the mosque at a time other than prayer hours.
Walk on Esteghlal Street. This street is one of Turkey's most famous streets in the European part of Istanbul and the Beyoglu district. A long road on both sides has various cafes, restaurants, boutiques, and shopping centers and is full of people 24 hours a day. The end of the street also has a pleasant atmosphere. Shops that sell old instruments, painters that auction their works, and colorful hand-embroidered clothes that fascinate you. Esteghlal Street is the best place for shopping, walking, sightseeing, and having fun. It is not without reason that three million people visit this street on weekends.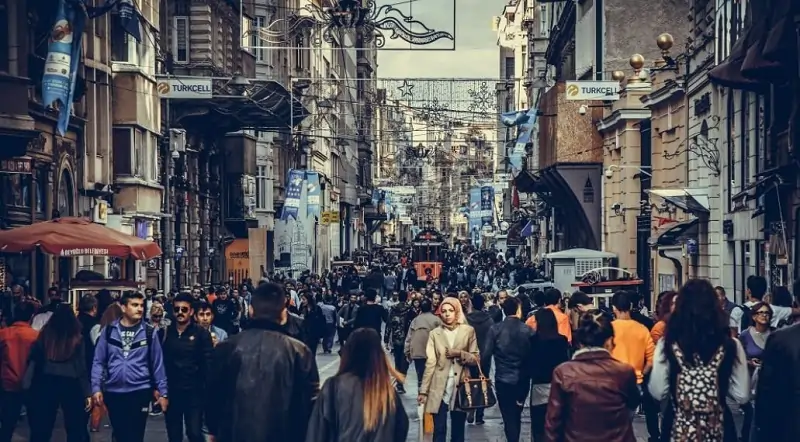 Buy souvenirs at Istanbul Grand Bazaar (Kapalı Çarşı). This market is one of the city's top attractions that must be visited. Initially, only cloth was traded in this bazaar, called the bazaar of cloth sellers and jewelers. This market is made of brick and wood with large arched arches and plastered on brick or stone walls.
This market has good souvenirs for sale.
Pamukkale in Antalya is also very famous and a sight to see. Pamukkale, which means cotton palace in Turkish, is known for having an unreal and mesmerizing view of its white, stepped slopes. These slopes are one of the best sights in Turkey, and because of the many tourists, they have become one of Antalya's most important tourist attractions.
Sandy beaches and streets full of luxury shops and restaurants have become popular tourist destinations for many years. If possible, travel to this coastal city and enjoy it.
Don't forget the balloons in Cappadocia. If possible, travel to this city and witness a strange yet beautiful and impressive sight in the sky after exploring the city on a hot air balloon.
If possible, travel to Konya and witness the romantic hearing of the Dervish. Sama is a different world. Even if we do not know Rumi and are unfamiliar with his thoughts, visiting this event will be impressive. According to many Muslims and tourists, Master Rumi is considered a saint. Every year from December 10 to 17, the Sama dance ceremony commemorates this great poet and mystic. Mystics believe that union with God is possible only through this mystical dance. Do not miss seeing this dance.