What are Armenian souvenirs?! Are you planning to travel to the scenic city of Yerevan? For many, one of the essential travel plans is buying suitable souvenirs and visiting the famous shopping centers of the destination country. In this article, we will learn about Armenia's most significant keepsake: stay with Nabtrip magazine.
In addition to its unique beauty, which catches the eye of every viewer, this country offers a series of diverse and colorful shopping in front of you.
Dried fruits such as apricots, carpets, and jewelry are famous in Armenia. But these products are not the only ones that are very important in Armenia; in all the cities of Armenia, there are exciting things to give as gifts. But souvenir shops are primarily available in Yerevan.
Armenian artists have been proud to discover their art and creativity for years. You can see its authenticity in the center of Yerevan. All kinds of handicrafts are available there. In this colorful shop, unique paintings, pottery, beautiful embroideries, stones, carpet carvings, and stone crucifixes are all found. In this store, you will find exciting and stunning products. The Vernissage Shop offers you unique works of the widely used obsidian stone. Armenians make beautiful necklaces and earrings from these stones.
You can find all models at all prices in this market. Very stylish and beautiful jewelry suits your friends, colleagues, and family. To see this store, we suggest you visit on weekends because, on other days, the Cafesjian Museum is a thousand steps away to buy works of art. You can purchase Armenian handicrafts such as dolls, premium and unique jewelry, national hyacinths, and wooden hangers among the handicrafts and artworks from famous artists. If you are short on time and still want to shop for your family, you can order your favorite products online.
You can also visit Dalan Gallery for souvenirs. Dalan is an old gallery, which means the passage between the building and the street, which is one of the most visited places by Armenian tour travelers. In this beautiful gallery, you can buy any gender at any price for you and your family. Here you can also buy handicrafts and jewelry made by professional Armenian artists. Among the small souvenirs you can buy for your friends and family are magnets with images of Ararat, pomegranates, grapes, crucifix, etc. After shopping, have a drink in the coffee shop in the gallery courtyard.
Many markets in Yerevan, Armenia, and various shopping facilities are available in Yerevan, from street hawkers who sell Chinese slippers and Iranian lampshades to handmade jewelry and decorative ceramics to luxury handicraft and clothing stores. Every seller has a final price they won't go below, so feel free to haggle and see the most realistic cost. Armenian customs are very sensitive about the export of antiques and what is considered a national treasure, so if you want to buy a carpet or a work of art, make sure the seller provides the necessary documents to export it.
Armenian walnut jam
One of the famous souvenirs of Armenia is the walnut jam. This jam is close to cherry in taste and crimson. Walnut jam is very delicious; if you happen to be in this country, get it for your consumption and as a souvenir of Armenia. This jam is available in most supermarkets, but the best quality can be found in the tourist villages of Geghart and Garni.
Khachkar of Armenia
Khachkar is one of the old handicrafts of Armenia. Khachkar, the Armenian name of these works, consists of two parts: khach means cross, and kar means stone, which is finally translated into Persian as Chalipa Sang. Chelipa is the stone on which the design of the cross is engraved. Most of these crucifix stones have become a place of pilgrimage in Armenia. You can also buy small samples of these works as symbols or souvenirs of Armenia.
Armenian coffee and chocolate
Armenia has earned the title of one of the best and most significant producers of chocolate. When traveling to Armenia, if you are looking for a new reasonably priced souvenir, the best choice is to buy coffee and chocolate. Indeed, everyone will be satisfied with such souvenirs from Yerevan. You can get the chocolate and coffee you need at the best price and quality in Yerevan.
Handicrafts of Armenia
Armenian handicrafts have a long history; due to the expansion of the tourism industry in this country, many stores can be found that offer Armenian handicrafts, which has provided you with an easy purchase. Among the offered handicrafts, we can mention the caliph, about which an explanation was given, and the making of decorative and functional items from obsidian stones, another handicraft that can be said is jewelry and gold making, which is one of the traditional arts that It dates back to centuries ago. There are beautiful goods in these malls that you can buy as souvenirs of Yerevan, Armenia.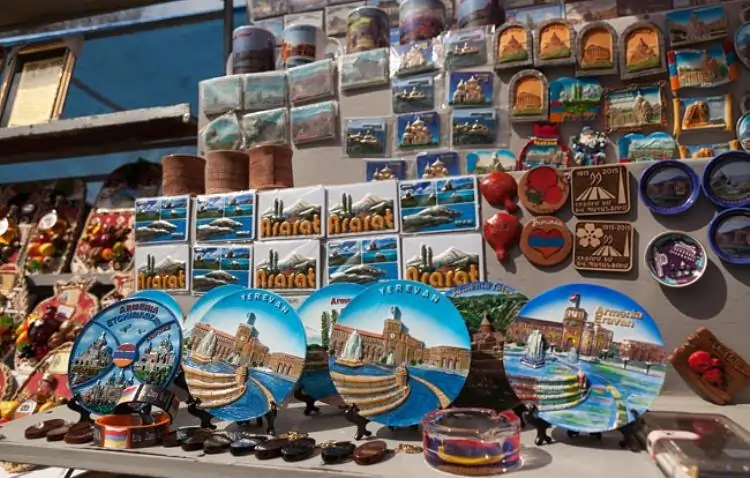 Famous clothing brands in Armenia
Some of the most famous clothing brands have an active presence in Armenia. The price of these brands' clothes is much lower than similar samples in Iran. In the following, we will mention the address of some of the most famous ones for you, the Kajaro audience, so that you can shop more efficiently and have more opportunities for sightseeing during your trip to Armenia.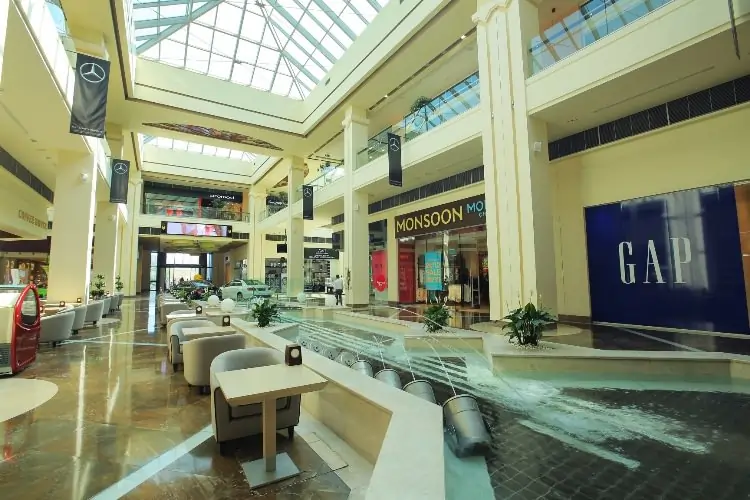 Escada: women's clothing store – address: 51/53 Hanraptoton St
Mango: women's clothing store – address: 21 Abuvian St
Maxmara: women's clothing store – Address: 41 Mashtots St
Motivi: women's clothing store – address: 36 Abuvian St
Mothercare: baby clothes and accessories store – address: 51/53 Hanraptoton St
Naf: Women's clothing store – Address: 37 Tomanian St
Next: Men's, women's, and children's clothing store – Address: 13 Amiryan St
Puma: Men's, women's, and children's sports clothing store – Address: Trian St
Adidas: men's, women's, and children's sports clothing store – address: 3 Arami St. (beginning of Abuvian St.)
Bagozza: Men's clothing store – Address: 11 Hracha Kochar St
Basic house: men's, women's, and children's clothing store – Address: 12/4 Babajanian St.
Collin's: men's and women's clothing store – Address: 41 Mashtots St
Celio: men's clothing store – address: 24 Tomanian St
Debenhams: men's, women's, and children's clothing store – Address: 66 Trian St
D&G Children D&G: Children's Clothing Store – Address: 13 Nalbandian St
Guess: men's and women's clothing store – Address: 6/1452 Housisa Street