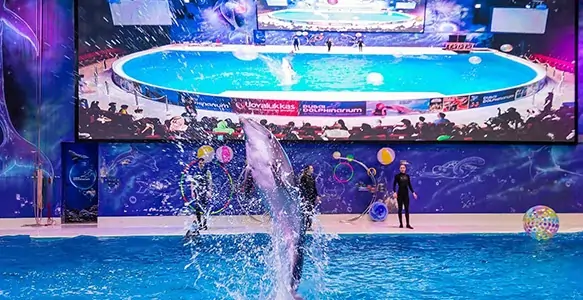 Dubai Dolphinarium is one of the city's most exciting and unique indoor attractions. Dolphin and seal shows, Creek Park's exotic bird show, and swimming with dolphins can be wrong!? Only in Dubai Dolphinarium can you enjoy fully equipped indoor facilities under one roof. It is safe to say that there is no other zoo or aquarium where people can freely play and interact with dolphins and seals like the Dolphinarium.
About Dubai Dolphinarium
This place is in Creek Park in Dubai, 5 thousand square meters. You cantheater0-degreetheeater around the saltwater pool and enjoy watching the antics of the dolphins and the spectacular show with an excellent light and sound system. Of course, dolphins' juggling with colorful balls, painting, and various types of acrobatics are also among the other activities of these lovely creatures.
Dubai Dolphinarium is a special place where dolphins and seals who have gentle and friendly behavior with people can live in peace. Because it is a suitable place t,o the relevant organizations have approved its case, this unique and different attraction brings smiles and happiness to you and your loved ones from the moment you enter. Let's explain more!
The best activities and attractions of the Dubai Dolphinarium
The Dolphinarium is in Dubai Creek Park and is famous for its live shows with dolphins and seals, as well as programs such as 'Swim with Dolphins,' where visitors can swim with bottlenose dolphins in a 2.5m wide and 90cm deep pool.
The Dolphinarium also offers exciting lessons on how to swim with these amazing animals and how they behave and live. As one of the main goals of the Dubai Dolphinarium is to educate people about the ocean and how to protect it, it also hosts educational lectures and art festivals for kids. In this way, helpful will also get valuable information about these kinds and unique animals.
Let's get to know some of the exciting activities of Dubai Dolphinarium in advance.
See. the rear seems. id a display up close at Creek Park
It may seem strange to you that we start with birds, but in addition to dolpdolphinariumare also beautiful birds in the Dolphinarium. The exotigenuinelyd exhibited at the Dubai Dolphinarium is genuinely magical. If you are an animal lover, you will never forget this place.
In this section, you can see an action-packed show with more than 20 different types of birds, including parrots. You will get to know these incredible animals enjoy tricks and stunts, and enjoy watching them. Of course, you will also learn a lot about the birds, their natural homes, how they live, and the little things that make them unique.
Swimming with dolphins is something else.
Y, player, play, pa, people, swim, play with dolphins, and enjoy being together. , play is the time t,o try it yourself. Spend some time with dolphins, the most lovable sea animals. You'll learn about their home in this 20-minute hands-on experience led by professional swim who swim with them by tor swim with them by the pool or swim with them by the pool. Touching dolphins, swimming, and playing with them are memories that will stay with you for the rest of your life. Indeed, you can end your day by taking a complimentary photo.
Get dizzy in the mirror maze.
How about a different, weird, and fantastic hobby? The Mirror Labyrinth is a meandering space in the Dubai Dolphinarium that challenges your orientation, and you have to enter through an entrance, find the exit, and then exit. In between, there are many dead ends and similar ways to confuse and possibly make you dizzy. This game is not for the faint of heart, as it requires a lot of skill. Step into the life-size mirror maze that seems to last forever, and let the adventure begin!
Try the trampoline with the kids.
If you want to try something new, it is the trampoline. The trampoline experience is suitable for people over seven years old. Although jumping up and down takes all your energy, the adrenaline released makes up for it, and you will have power all day. Don't forget to ask the officials of this section to take a free souvenir photo of you so that you will always have this memory with you.
Dolphin show, an attractive part of the Dolphinarium
Many people come to the Dubai Dolphinarium to sit and watch the WatchingWtWatchinggWatchingatures. Watching the dolphins dance, sing, play ball, and jump is as much fun as any other activity in the complex, so don't miss out on this attraction.
Tips you should know before visiting the Dubai Dolphinarium
Before visiting the Dubai Dolphinarium, here are some essential things to keep iLolp Show iinbai Creek Park easily accessible by car or public transport.
Show time: It is recommended to check the show times in advance and plan accordingly.
Admission: Admission to the Dubai Dolphin Show includes access to shows, interactive swims, and other attractions. Note that prices vary depending on the activity and age of the visitor.
How to dress: Tourists are advised to dress appropriately for the weather. In any case, this center is covered but has air conditioning. Swimwear is required for interactive swimming with dolphins.
Food and Beverage: The Dubai Dolphinarium has a food court, beverages, and a gift shop where visitors can purchase souvenirs and gifts.
Photography and Videography: Photography and video are allowed in the center, but flash photography is prohibited during the show.
Accessibility: In Dubai, the Dolphin Show is wheelchair accessible. Indeed, ramps and lifts will be available for visitors with mobility issues.
Health and Safety: Visitors must follow the facility's health and safety guidelines, including wearing a life jacket and following staff instructions during interactive swims.
The best time to visit the Dubai Dolphinarium
The best time to visit the Dubai Dolphinarium is from November to April (November to May) because the weather will be warm and pleasant. Although it is crowded with tourists, don't forget to book tickets in advance. It is preferable not to go to the Dubai Dolphinarium in the summer because the humidity and heat will be exhausting.
Here we have put the duration and time of Dubai Dolphinarium shows:
Dolphin show: 3 shows will be held daily. Performances are scheduled Monday through Saturday at 11:00 am, 02:00 pm, and 06:00 pm. Discount shows are also open on Mondays, Fridays, and Saturdays at 11 am.
Dolphin Planet: The dolphin swimming show will be open daily from Monday to Saturday at 12:00, 15:00, and 16:00.
Creek Park Bird Show: Monday through Saturday at 12:15 pm, 3:15 pm and 7:15 pm.
How is the Dubai Dolphinarium ticket?
Tickets in Dubai Dolphinarium are different; each section requires separate ticket purchases. In this ticket, you can choose from the following:
VIP tickets: The best place to see the show is the VIP seats in the middle of the arena.
Regular ticket: Regular seats are placed in an arc to the left and right of the VIP seats.
notice that…
Please be there at least 30 minutes before the start of the meeting.
VIP tickets get you center-stage seats that give you the best view of the show. A standard ticket gives you regular seats.
Seating for Standard Card holders is on a first-come, first-served basis.
Tickets are free for children under two years old.
Children between 2 and 11 years old need a valid child ticket.
For guests over 11 years of age, the adult rate is calculated.
Address and working hours of Dubai Dolphinarium
Riaz St., inside Creek Park Gate 1, Dubai Dolphinarium Building, Umm Harir 2
Monday to Saturday: 10:00 am to 7:00 pm
Sunday: Closed
How to access the Dubai Dolphinarium
Dubai Dolphinarium is located in Creek Park, Dubai, United Arab Emirates. Here are several ways to get to the park:
By car: Dubai Dolphinarium has a large parking lot and is easily accessible from anywhere in Dubai. You can use GPS or a map to go to Creek Park.
By Taxi or Ride-hailing: Taxi and ride-hailing services such as Uber and Careem are readily available in Dubai and provide a convenient way to reach the Dubai Dolphinarium.
By public transport: Dubai Dolphinarium is accessible by public transport, including Dubai Tram and Dubai Bus. The nearest tram stop is Jadaf, and several bus routes stop at Creek Park.
On foot: If you are staying in a nearby hotel or apartment, you can walk to the Dubai Dolphinarium, as it is located in a central area with easy access to footpaths and sidewalks.
In the end, we have to say that…
Dolphins are beautiful creatures; watching them up close will be the best memory and fun for everyone. So put the Dubai Dolphinarium on your itinerary. You will meet these lovely creatures wherever you want and even swim and play.
You can get up close and personal with dolphins during Dolphin Meet and Greet, Majestic Dolphin Swim, and Up-close and Personal with Dolphins. You can also watch the Creek Park Bird Show, the first of its kind in the UAE. In any case, it will bring you the best memories.