Taksim Square is one of the most touristic places in Istanbul, located in the Beyoğlu district, and is considered the heart of modern Istanbul. There are many hotels and restaurants around this square and Esteghlal Street, where many Turkish tourists choose to stay. This square is also a place where locals celebrate New Year, national holidays, and other gatherings.
A trip to Istanbul is incomplete without visiting Taksim Square, so most tourists plan to see this part of Istanbul. To make the most of Taksim Square's attractions and entertainment during your trip, follow this article from Nabtrip Magazine.
Where is Taksim Square?
Taksim Square is located in the Beyoglu area, in the European part of the city, in the beautiful city of Istanbul, Turkey. Bus and metro stations near Taksim Square make this square easy to reach all over the city. Although cars are prohibited from passing through the court, only the city's nostalgic trams can pass.
Metro: If you want to go to Taksim Square when you arrive in Istanbul, Istanbul Metro will be the best way to travel. To get to Taksim, you must use the red line "M1A" at the station "Ataturk Havalimanı," which reaches Yenikapı station after 17 stops, Where the red and green lines meet. Next, you will take the metro line "M2", which will take you to Taksim station after four.
Trams and Cable Cars: The tram line from Sultan Ahmed Quarter to Taksim Square is the most convenient. Taking the tram line "T1" from Sultan Ahmed station in this historic area would be best. Then get off at "Findıklı Mimar Sinan Universitesi" station and walk one-kilometer northwest. After the tram, you can also leave Kabatas station, next to the F1 funicular (cable car) station. With this train, you will reach Taksim station in two minutes. Finally, after 250 meters on the right, you will find Taksim Square.
Taxi: Another option in front of you is a taxi, which has a stop 130 meters north of Taksim Square. Taksim-Aksaray and Şişli-Eminönü taxis drop off passengers here.
Bus: Tourists wishing to travel by bus in Istanbul should get off the bus at the bus stop just above Cumhuriyet Street, which is 150 meters north of the square. HAVAIST luxury buses also transport passengers between Istanbul Airport and Taksim Square so you can go directly to Taksim from the airport.
Address: Turkey, Istanbul, Beyoglu District, Taksim Square
Presentation of Taksim Square
Taksim Square is the symbol of the modern Republic of Turkey, which Atatürk created. The Republic Monument is located at the heart of this square. After its construction, Taksim Square has become a place to host national events such as Turkey's Independence Day and other celebrations.
This area is very diverse in the structure; Next to 19th-century monuments and small mosques, modern buildings have sprung up. As Taksim and its streets are always full of travelers and locals, it has a bustling and noisy atmosphere characteristic of a big city.
The principal fame of this market is related to all kinds of restaurants, malls, and hotels around it. Meanwhile, Esteghlal pedestrian street has given Taksim more importance and dynamism; people who like shopping, sightseeing, and entertainment do not miss visiting it.
As you pass Taksim Square, besides watching pigeons, don't forget to make your memories by experiencing cafes and shopping. In this part of Istanbul, a wheel sells simit bread, stuffing, and roasted chestnuts, doubling the pleasure of sightseeing. As you walk, you may encounter flower sellers and street musicians.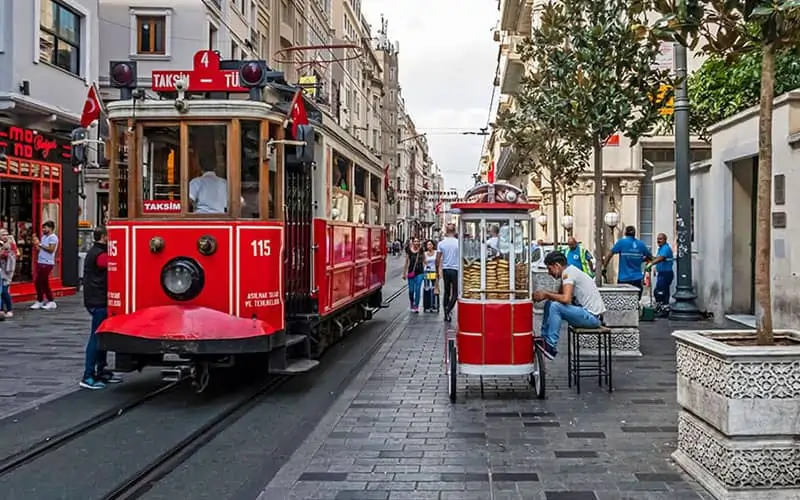 History of Taksim Square in Istanbul
Taksim Square has seen everything from a reservoir and cemetery to a stadium and social gathering place, and its uses have changed over time. Taksim is a public square created when the Republic of Turkey was founded. But the court was forgotten for 13 years until it slowly began to gain attention and was transformed into a recreational and cultural space. They went to a foreign expert and called the Frenchman "Henri Protes" for a long-term plan.
The authorities of the Republic of Turkey have considered this field a significant project. The area was later expanded, so the existing barracks, which had not been used since the First World War, were destroyed. In addition to creating green spaces, critical cultural centers of the city have been built. Civil servants run these institutions, But in the 1950s, the problem of executive deficits appeared.
With the intervention of the Republican authorities, Taksim Square gained a political identity and somehow became a battleground between the states. Successive governments were angry that it was used for the May Day protests.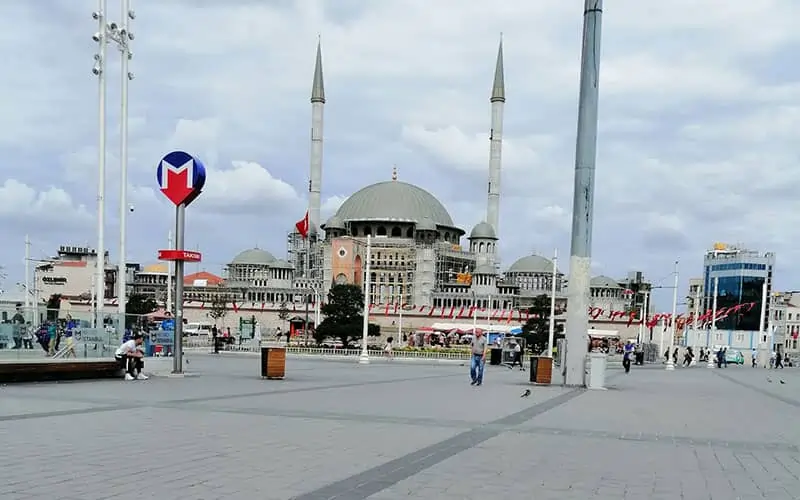 Currently, Taksim acts as a protest ground for protesters and citizens of various backgrounds; In addition, it is the site of many celebrations and events. During one of the events in Taksim Square in 1977, unknown shooters opened fire on union activists who were celebrating May Day, causing great panic and killing dozens of people. In this way, Taksim Square became an ideological symbol.
The reason for naming Taksim Square
At the end of the Ottoman period, Sultan Mahmud I chose Taksim Square as the point where the main flow of water from the north of Istanbul was collected and branched to other parts of the city. Therefore, this square got its name from the large stone reservoir on the court's west side. Taksim means distribution or division.
Taksim square statue
The Independence Monument is the most important historical monument in Taksim Square, which was built by Pietro Canonica, an Italian sculptor, with public donations and opened in 1928. This monument was created to honor Mustafa Kemal Atatürk, the founder of the Republic of Turkey, in the two roles of commander-in-chief of the army and a statesman. On its southern facade overlooking Sıraselviler Street, Atatürk, Esmet Inonu, and Marshal Fuzi Çekhmaq can be seen in front and other figures behind them, which are a symbol of the foundation of the Republic of Turkey.
The statue of two Russian generals named "Mikhail Vasilyevich Frunze" and Marshal "Kliment Yefremovich Voroshilov" also stands behind the Inonu and Flint, which refer to the military assistance of Vladimir Lenin during the War of Independence. On the northern facade overlooking Cumhuriyet Street is a symbol of the Turkish Independence War. On the eastern and western fronts, a soldier with the Turkish flag symbolizes this country's army.
The reason for the fame and popularity of Taksim Square for tourists
Taksim Square is a substantial commercial, entertainment, and sightseeing area for locals and tourists in Istanbul. This square is also a great place to meet others and start a city walk in Istanbul. Walking around Taksim Square, watching the crowd, crossing Esteghlal Street, and enjoying its lively atmosphere are one of the best forms of entertainment for tourists.
Many popular tourist places, such as restaurants, cafes, attractions, museums, etc., surround Taksim Square. The location of this square is such that tourists can easily visit Gezi Park, Aya Triada Dome Church, Nostalgic Tram, Hossein Agha Mosque, and the famous Esteghlal Street with little time.
Taksim Square's highly developed transportation infrastructure allows tourists to go almost anywhere in Istanbul. A few years ago, this place was renovated and got rid of the traffic problem, and all the stations were moved to 100 meters from the square. Using the tram is the choice of many tourists for sightseeing in this area.
In which district of Istanbul is Taksim Square?
Taksim Square is one of the most famous squares in Istanbul, located in the Beyoglu district and the European part of the city. Besides, Taksim Square is located at the eastern end of Esteghlal shopping street.
Where is the closest beach to Taksim Square in Istanbul?
Istanbul has many beaches, some of which are located near Taksim Square. Florya Gunes Beach, Yesilkoy Ciroz, Caddebostan Road, Atarlı Beach, and High Beach Club are among these beaches. Beach Club), Dalia, Burc, Non-Stop Beach, Uzunya, and Suma, most of them are around They are located 20 kilometers from Taksim Square.
Taksim Square hotels
There is a wide range of two-star to five-star hotels around Taksim Square, and therefore many tourists prefer to stay in them to make the most of the lively nights and busy streets of this part of the city.
These hotels are located in the heart of one of the entertainment and shopping hubs of Istanbul and allow tourists to enjoy the entertainment and attractions of Taksim without spending money on transportation and transportation in the city.
Sights of Taksim Square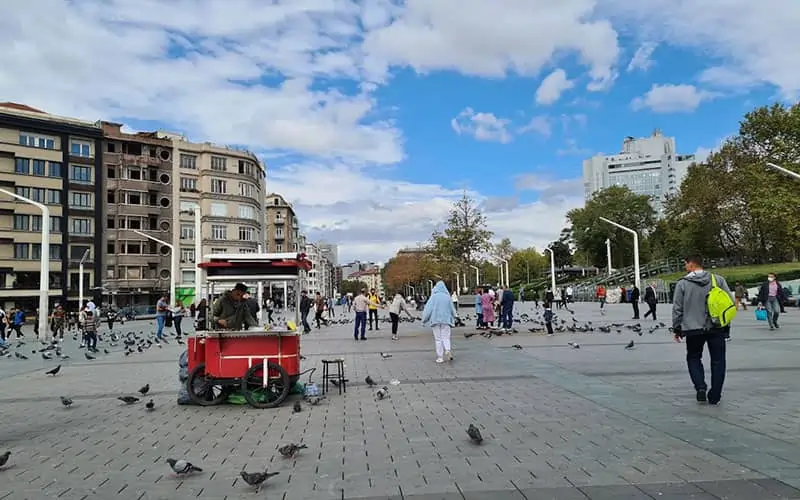 Ataturk Cultural Center
The change in urban life after the establishment of the Republic of Turkey showed that the opera building was a great need and necessity. Atatürk Cultural Center, located in Taksim Square, was opened in 1969 under the name Istanbul Palace of Culture after 13 years of construction and was heavily damaged by fire in 1970. In 1978, this place was named after Atatürk Cultural Center abbreviated as "AKM."
Many national and international concerts, meetings, exhibitions, and shows are held in this center, especially the performances of the Istanbul State Theater, State Opera and Ballet, State Symphony Orchestra, State Turkish Classical Choir, and the Istanbul International Festival, which attracts large audiences. They do.
Park Gezi
Gezi Park, located right next to Taksim Square, is the only green area in Taksim where you can take a good rest and enjoy watching the city live.
This park, considered one of the smallest parks in Istanbul, is often a place for people's protests and political gatherings.
Taksim Mosque
While walking around Taksim Square, the first attraction that catches the eye is the Taksim Mosque, which has a capacity for 4,000 people. The construction of this structure was broken on February 9, 2017, and the president of this country inaugurated it on May 8, 2021.
Esteghlal St
Istanbul's Taksim district owes most of its fame to "Istiklal Street" and is probably the most famous street and entertainment district in Istanbul.
This famous shopping street stretched almost two kilometers and was considered the first Muslim settlement in this part of Istanbul in the 15th century. Later, in the 16th century, this area was densely filled with residential houses, commercial shops, and workshops. As a result, Esteghlal Street, once a forest, gradually became the center of trade and handicrafts. In the following years, many Europeans came to this street and combined its Eastern appearance with Western motifs. The said street got its modern name after Atatürk came to power, which is the Turkish word "Istiklal, " meaning independence.
Walking on this street, you will come across many small and big stores with a wide variety and even selling famous brands. In other words, Esteghlal Street is a pedestrian street with all kinds of shops, restaurants, cafes, and street shows. If you pass this street, you can visit Madame Tussauds Museum, the remarkable Church of St. Anthony of Padua, and the Pera Museum, besides shopping.
Galata Tower
Although Galata Tower is 2.5 kilometers from Taksim Square, you can reach this place within 10 minutes by city bus or 30 minutes by foot on Esteghlal Street. Galata Tower is an outstanding historical monument and, at the same time, a popular viewing platform for tourists. The height of this tower reaches 61 meters, and its wall is four meters thick.
This attraction served as a lighthouse for ships in the past, But in the 16th century, when the Ottomans entered this land, the mentioned tower was changed to an observatory. In the 19th century, Galata Tower was renovated, and a balcony was added to it. At that time, the building was used to track fires in the city.
To access the tower's viewing platform, tourists must use the elevator or its 143 historical steps to stand above Istanbul and watch a 360-degree view of the city and attractions such as Topkapi Palace and Sultan Ahmed Mosque from a different angle. There is also an attractive restaurant at the top of the tower.
Jahangir and Chukurjoma neighborhoods
From Siraselweiler Street along Taksim Square, you can reach the famous neighborhoods of "Cihangir" on the left and "Cukurcuma" on the right. In the lovely area of Jahangir, Firuzaga Coffee House is located, which is always full of people throughout the day and night.
Çukurjuma neighborhood is also a very touristy in Istanbul, famous for its antique shops, beautifully restored houses, art galleries, and cafes. Many tourists visit Taksim Square by walking in scenic streets and relaxing in various restaurants.
Taksim square entertainment
Buy souvenirs
Taksim Square is one of the best areas in the city to buy souvenirs. Various stores in this square offer a variety of products, from clothes, books, and jewelry to handicrafts. If you don't want to tire yourself, spend more than one day exploring and shopping in Taksim Square.
local foods
After exploring Taksim Square, go to one of the restaurants and eateries around the square. Although branches of fast food chain restaurants also operate in this square, Try local street food such as Islak Burger, which is prepared with a special tomato sauce and aromatic vegetables. Doner is another delicious dish that you should not miss. This sandwich is made with beef or chicken. If you are looking for lighter snacks, try snacks and corn.
Finally, complete your meal with a glass of Ayran. Ayran, or dog, is an excellent drink made with yogurt and is more common in summer.
Local sweets
Few tourists can resist drinking coffee at Rahatul Halqum. If you have had this experience before, try other local sweets. In Taksim Square, many sweet shops and confectionary cafes sell different types of local sweets.
If you are looking for a different local treat, try Doorman, a type of ice cream with high concentration and stickiness. When you buy, you will be surprised by the preparation steps of this ice cream.
View street art
A night tour around Taksim Square is a fascinating pastime you should not miss. Street musicians play attractive melodies during these hours. Graffiti by local artists can also be seen in the corners of this area. Everywhere you look in this square, you will see signs of the culture and art of this region.
Gallery photos from Wikipedia (photographers: Tarpanjeh, David Berkowitz, and FaceMePLS)
---
common questions
Is it possible for cars to pass through Taksim square?
Cars are prohibited from passing through the square, and only the city's nostalgic tram is allowed to pass through it.
What is the reason for naming Taksim Square?
During the period of Sultan Mahmud I, Taksim Square was the principal place of water distribution to other areas of Istanbul.
What is the symbol of Taksim Square?
Independence Monument
What is the reason for the fame of Taksim Square?
Many popular tourist spots are located around Taksim Square.