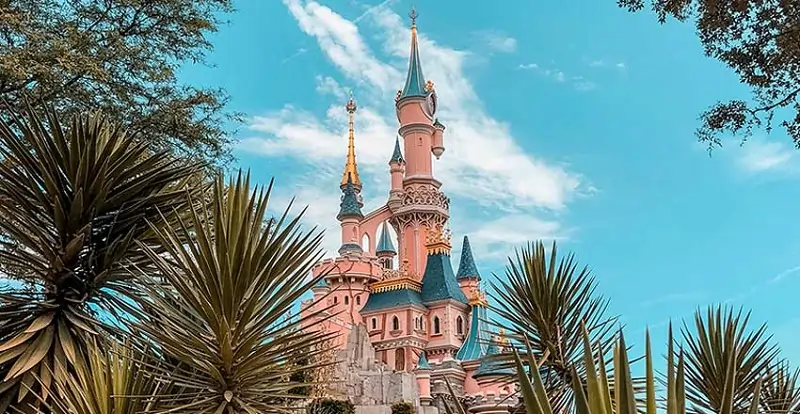 If you are planning a trip to Disneyland Paris, you are in the right place. In this article, we have tried to explain everything about Disneyland Paris. We don't think there is anyone in the world who doesn't have memories of Walt Disney cartoons. Walt Disney's animations are the common point of children's world with their parents. We all spent our childhood with the story of Cinderella, Pinocchio, Snow White, and dozens of other cartoons; One day, we dreamed of flying with Peter Pan, and the next day we were waiting for the seven dwarfs to appear in our room. Every person in his life somehow connects to these cartoons. By building Disneyland collections worldwide, Walt Disney has made it possible for everyone to enter the world of comics at any age and say goodbye to the real world of adults for at least a few hours.
Whether you have kids or not, a trip to Disneyland Paris is an event you should take advantage of and make the most of. For this, first of all, it is better to get to know Disneyland Paris and research its entertainment and different places to have the best plan for the short time you are in this dreamland.
Stay with the travel and tourism magazine Nabtrip.
Disneyland Paris: Welcome to the land of magic!
Disneyland Paris, formerly known as Euro Disney Resort, is one of the most famous entertainment centers in the east of Paris, where many children and adults go to have fun every year. Disneyland Paris includes two sets of amusement parks, which are good places for nature tourism, shopping, and restaurant tours; of course, the entertainment of this park is not limited to these few things, and we are going to introduce them little by little.
Disneyland Park is the central part of this complex, opened on April 12, 1992, as a place for fun. Ten years later, the second part of this complex, Walt Disney Studios Park, was built in 2002. In 2017, Disneyland Paris celebrated its 25th anniversary; this park has had nearly 320 million visitors in 25 years, which has made Disneyland Paris one of the most visited parks in Europe.
Disneyland Paris is the second Disneyland after Tokyo Disneyland, built-in 1983 for the first time outside the United States. Disneyland Paris is the only park outside the United States that the Walt Disney Company wholly owns. Disneyland Paris consists of four main sections.
Castle Park or Disneyland Park
Disneyland Paris is built in the shape of a castle. This castle is one of the most famous sights in Paris because of its quality attractions, attention to detail, and striking resemblance to the Sleeping Beauty cartoon castle. This famous castle is meant wherever the name Disneyland Paris Park is used.
Walt Disney Studio Park
Walt Disney Studios Park is a smaller version of Disney's Hollywood Studios. Studio Park has some good attractions for visitors but fewer fans than Disneyland Park.
Disney Village
Disney Village is a small area with various shopping centers and restaurants, which we will discuss in this article.
Hotel area
Six hotels are in the parking area, and two are outside and far away. Except for two hotels located outside the site, the entire area can be explored on foot quickly.
The good news for Avengers fans is that in 2020-2021, two Avengers attractions will be added to the collection, making it even more complete.
Why should you visit Disneyland Paris?
In general, there are four international Disney destinations, each of which has its charm; now, the main question is, why choose Disneyland Paris as our destination for entertainment? You can select Paris Disneyland as your travel destination for many reasons. The question that most Disney fans ask about this park is: "Is Disneyland Paris the real Disney?"
Of course, yes, this is authentic Disney. Disneyland Paris has a relatively different structure from other Disneylands and is spectacular. It isn't easy to describe this park with all the fine and significant details.
Seven must-see places in Disneyland Paris
We must say that Disneyland Paris will make you fall in love at first sight, even if you don't believe in love at first sight. If you want to make the most of your time visiting this park, having general information about its different parts in advance is better. In the following, we will introduce you to 7 of the best amusements in Disneyland.
1. Big Thunder Mountain Railroad
The Grand Mountain Railway at Disneyland Paris is a rollercoaster designed for all ages, a device that the whole family can enjoy. This train always takes its passengers on an exciting and scary adventure in the depths of a mysterious mountain. A winding path in raging rivers and scary sounds tremble the hearts of all travelers, But the train does not stop moving to bring its passengers safely to a safe destination.
2. Phantom Manor
Phantom Manor was built in 1992; this haunted house is one of the fun and scary attractions of Disneyland Paris. There are similar houses in Disneyland, America, and Tokyo, but the storyline of this house is different and darker than the others. If you are adventurous and have a headache with scary stories, you should enter this house to discover its secrets.
3. Blanche-Neige et les Sept Nains
What would you do if you were told that you could get on a trolley and travel to Snow White right now? No one will miss the opportunity to meet the Seven Dwarfs! It will be up to you and the seven dwarfs to travel to the world of Snow White, pass through the dark forest, and destroy the evil queen. Do not underestimate this scary and exciting adventure.
4. Sleeping, Beauty Castle
Before you visit Sleeping Beauty Castle in Disneyland Paris, it is better to oversee the cartoon once more to enjoy every moment of your adventure. Sleeping Beauty Castle has two parts: one has a black hole mode where the fairy tale dragon is placed, and the other is a balcony whose windows are magnificently painted with beautiful paintings of Sleeping Beauty cartoon. This section has several small shops to buy jewelry and gifts.
5. Adventureland
Adventureland, or Adventureland, is one of the themed parts of Disneyland, designed by the Walt Disney Company and inspired by the forests of Africa, Asia, and South America. Walt Disney established this themed land worldwide to make the dream a reality and said about this great work: "We envisioned ourselves far from civilization, in the remote jungles of Asia and Africa."
Disneyland Paris Adventureland is geographically slightly different from the American Disneylands and is mainly derived from the regions of India and Morocco. This subject land is divided into four parts.
Le Passage Enchanté d'Aladdin
The first part is called Adventureland Bazar. This market is a recreation of an oriental city based on the Arabian Nights, a town similar to the city of Agrabah in the story of Aladdin and the Magic Lamp. The Aladdin attraction was added to the Adventure Bazaar in 1993, an exhibition of the film and novel Aladdin.
Walking into this exhibition, you will see the showcases that recreated and displayed scenes from the movie Aladdin. This section will interest you if you have recently seen the movie Aladdin.
Disneyland Paris store and restaurant complex
The second part of Adventureland has more of an African feel and is full of restaurants and shops that you can spend a lot of time with.
Indiana Jones and the Temple of Peril
The third part is made with the theme of the mysterious forests of Asia, and thematic recreations related to the story of Indiana Jones are placed in this part. This section includes an extensive and exciting train designed and built in 1993 based on the Indiana Jones movies. Guests board train cars shaped like old mining wheels and travel through an eerie mine to finally arrive at the lost and mysterious Temple of Peril. It is better to fasten your seat belts as soon as possible and sit firmly in your seat along the way; this train will take you to the world of Indiana Jones at full speed.
Pirates of the Caribbean
The last and perhaps the most critical part of Adventureland is the Pirates of the Caribbean area, which covers a considerable amount of Adventureland. It is better to pick up your sword as soon as possible and join the team of Captain Jack Sparrow to experience a scary adventure.
The Pirates of the Caribbean adventure is one of the entertainments in all Disneylands and is considered an integral part. Pirates of the Caribbean is a mysterious story of a group of pirates you must accompany on this journey. It will be interesting to know that this adventure was the starting point for the Pirates of the Caribbean movie and series in 2003, after which several new characters were added to the Disneyland collection.
6. Peter Pan's Flight
Peter Pan's Flight is a musical and heartwarming ride based on the cartoon story of Peter Pan, one of Disneyland's most famous attractions. Board the magical ship with Peter Pan and fly in the night sky over London, which is made as a completely natural model. Disneyland Paris' version of Peter Pan is longer than the other parks, giving you more time to enjoy your ride, a flight you wish would never end.
7. The Voyages of Pinocchio
Do you like the adventurous journey of Pinocchio or not? Try never to lie in answer to this question when you are in Disneyland Paris, this is the land of Walt Disney, and you might end up with a nose like Pinocchio if you lie! Who wouldn't be excited to see Pinocchio and Father Geppetto? This trip is based on the Pinocchio cartoon made by Walt Disney in 1940. Accompany Pinocchio in this adventure to finally become a real boy.
When is the best time to visit Disneyland Paris?
The best time to travel to Paris and visit Disneyland Paris is between April to June and from October to mid-November because during this period, the weather in Paris is mild, and the number of tourists in this country is less than in summer.
Purchase from Disneyland Paris
No matter how much you look around Disneyland Paris, it would be best if you bought souvenirs. Disneyland is full of attractive shops for children and adults. Disney Village is a shopping complex with restaurants and entertainment in Disneyland Paris. This collection was opened in 1992 with a different title but gradually reached its current shape and image. Shop at Disney Village, a magical environment where the best and most famous clothing, jewelry, toys, and exclusive collectibles are brought together. Disney Gallery, Lego Store, Disney Store, etc., all wink at tourists for shopping.
How many days does it take to visit Disneyland Paris completely?
Sightseeing in Disneyland Paris, including the park and hotel, takes approximately two to three days. The minimum time we recommend to tourists is two nights and three days. Our suggested duration allows you to explore and leave the park completely satisfied. But if you need more fun, you can stay longer in Disneyland Paris and visit more parts of the park.
What to eat in Disneyland Paris?
Eating at Disneyland Paris is relatively expensive, but the good news is that, unlike other tourist attractions, tourists can bring their food and drinks to the park. So if you want to spend less, pack your sandwiches, drinks, and snacks in your backpack; otherwise, the park has more than 50 different cafes and restaurants for different budgets. Remember to reserve your desired Restaurant in advance online or with the FASTPASS system so you don't have to wait in long lines. In the following, we will introduce some of the most popular restaurants in Disneyland Paris.
Walt's Restaurant is one of the best restaurants in Disneyland Paris.
With its unique interior design, Agrabah Cafe is another option—a cafe with a different interior design, a Moroccan vibe, and other dishes worth trying.
Captain Jack's Restaurant also invites you to have fun and have a meal with the pirates of the Caribbean.
Disneyland Paris working hours and tickets
The hours of operation of different sections of Disneyland Paris can be easily checked through the official website of Disneyland Paris. Get tickets for each compartment quickly and online.