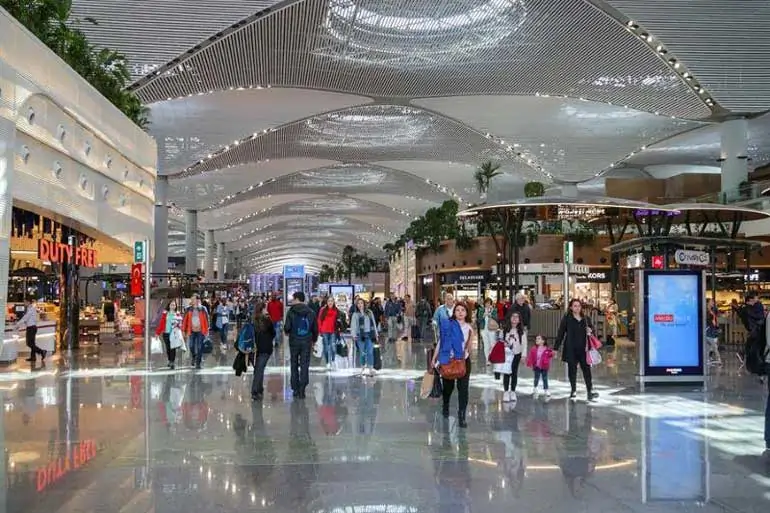 Undoubtedly, one of the most beautiful tourist cities in Asia is the city of Istanbul, Turkey, and the reason for that is its various tourist attractions, historical, entertainment, etc. Due to the massive reception of tourists worldwide, especially from our country to this city, its transportation sector has always been associated with a high traffic volume. Several terminals have been considered in designing the air routes of Istanbul airports to solve this problem.
Complete introduction of Istanbul airports and their facilities
Istanbul currently has two international airports, Ataturk Airport, and Sabiha Gokcen Airport, to manage the city's flight traffic better. In addition, it is interesting to know that the Turkish government is building the third international airport on the Black Sea coast of this city. This fledgling airport seems to be ready for operation in 2030 and will replace Ataturk Airport. In this article, we would like to introduce and review two airports in Istanbul. If you plan to fly to Istanbul, don't miss this article from Nabtrip magazine.
Istanbul Ataturk Airport
Istanbul Ataturk International Airport is the first airport in Istanbul and the busiest airport in Turkey. This beautiful airport in the European and tourist parts of Istanbul opened in 1924. Ataturk Airport is 24 kilometers away from Istanbul city center. Ataturk Airport, one of the main airports in Istanbul, is considered a main gateway for tourists to enter the city, which is familiar to many when traveling to Istanbul.
This vast airport has two passenger terminals, one for domestic flights and the other for international flights. Ataturk has good amenities. Therefore, if you have to be at the airport, you will experience comfortable conditions.
What are the facilities of Ataturk Airport?
As mentioned, Ataturk Airport has many amenities and services, some of which are free, and some are offered to passengers for a fee.
Airport information centers
Istanbul Ataturk International Airport has five information centers in the airport, ready to answer you 24 hours a day. If you don't find your way or get lost, you can be on the right path by visiting these centers.
ATM and currency exchange counter
The ATM and currency exchange counter is one of the main and, of course, the most valuable services of this big airport, which is located at your fingertips in both terminals so that you can use them if necessary. Therefore, if you have just set foot on the soil of this country and have not had the opportunity to convert currency, this service will significantly help you.
Overnight airports
In this airport, more than 20 shops are operating 24 hours a day so that you can buy all kinds of products and souvenirs without applying taxes. Many travelers, especially those without much time to explore the city, buy souvenirs from these stores.
medical services
The medical service, which provides 24-hour medical and emergency services to passengers in both terminals, is another facility of this airport, which is good news for people with underlying diseases.
Various restaurants and cafes
At Atatürk Airport, don't worry about preparing food because there are many quality and varied restaurants and cafes in both terminals of this airport that you can go to for quality food or drinks. These restaurants and cafes also serve various famous Turkish dishes and desserts.
Hairdresser and hairdresser
One of the exciting things about this airport is the barbershop. If you need to fix your hair, you can solve your problem by referring to them. So if you have an unplanned and rushed trip to Turkey, don't worry about your grooming.
Free Internet
There is Wi-Fi internet throughout the airport area, which you can use and surf the web for free for up to two hours.
Public lounge
In addition to all the services above, this airport has public lounges for passengers. If the flights are delayed, or you have enough time to rest, you can relax in these lounges. Some of these salons have unique amenities. You need to pay extra. There are also these lounges in both terminals.
Access routes to Ataturk Airport
Istanbul Ataturk International Airport has easy access due to its perfect location. You can go to the city center from this airport with different means of transportation or to the airport from the city center. The three main transportation methods from the airport to the city center are the metro, bus, and taxi.
Bus
This public transport, like the subway, is helpful for people who don't have a lot of luggage; Buses in this city are cheaper than taxis, and in terms of price, they are not much different from subways, but if you like to see the sights of the town on your way to the airport, the bus will be the right way for you. You can determine your route correctly using Google Maps wherever you are in Istanbul.
Metro
If you don't have much luggage, you can use the metro to get to the airport or the city center. Istanbul Metro has covered all parts of Istanbul due to the spread of stations in the city.
Therefore, you can easily reach your desired destination from the origin of the airport. The M1 red line goes from Yenikapi station to Havalamion station near this airport. You can walk from the airport to the subway.
Istanbul Sabiha Gokcen Airport
Sabiha Gokcen Airport is the second most famous airport in Istanbul, located in the southernmost part of Istanbul. This airport is 45 kilometers away from the city center. Sabiha Gökçen Airport is located in the Asian part of Istanbul and is newer than Atatürk Airport.
Istanbul Sabiha Gökçen International Airport was built due to the lack of empty capacity in domestic and international flights of Ataturk Airport. The Turkish government planned this airport, which experienced significant growth in 2010, to handle approximately 25 million passengers by 2023. Currently, this airport can handle this number of passengers. The youngest option among Istanbul's airports, Sabiha Gokcen, in 2015, with 206 flights and 28 million passengers, won the title of the world's third busiest airport after London and India.
Facilities of Sabiha Gokcen Airport in Istanbul
Istanbul Sabiha Gokcen Airport, like other airports in this city, has excellent facilities, which we will mention and introduce to you.
ATM and currency exchange counter
The currency exchange counter is one of the leading facilities of this airport. If you need to change your currency, you can easily do so with the relevant machines available everywhere.
Overnight stores
Every airport in the world has small and big stalls for buying souvenirs or necessary items. This beautiful airport is not exempt from this issue and has various shops to buy souvenirs.
Various restaurants and cafes
For eating and drinking, this airport has several high-quality cafes and restaurants, some of which are famous Turkish brands. You can safely use the food and drinks of these airports. Cafe Istanbul, McDonald's, McCafe, Burgerking, etc., are busy cafes and restaurants in this airport.
Free Internet
Wi-Fi in this airport is considered like other airports in Istanbul. The difference is that it is not free and you must pay a specified fee to access it.
Access routes to Istanbul Sabiha Gokcen Airport
This airport has a different geographic location than Ataturk Airport, which is not close to it. To travel from this airport to other parts of the city, you must consider more distance and cost than the other mentioned airports.
Metro
Currently, Istanbul Metro does not cover Sabiha Gökçen Airport. According to the officials of this country, line four of the Istanbul Metro will be expanded soon, and a station for this airport will be considered. Therefore, if you are entering Istanbul from the origin of this airport, you cannot count on the metro for transportation.
Bus
Istanbul Sabiha Gökçen Airport buses, called Havabus, belong to the municipality and travel on different routes. These public means are one of the most economical and reliable means of transportation to reach the airport or the city center. This bus is active from 4 am to 1 am and is ready to serve passengers every 30 minutes.
Suppose you don't have a lot of luggage and are traveling alone or with friends. In that case, this option is suitable for you, but if you are traveling with your family and have a lot of luggage and things with you, Try to use a taxi for transportation as much as possible.
Finally, remember that Istanbul is one of the most beautiful cities in Turkey. Travel there by vehicle; you will see different beauties and attractions. If you plan to travel through the airport, according to what has been said, Atatürk Airport will probably be a better choice, unless a private car will pick you up at the airport itself.
---
common questions
Where is Istanbul Ataturk Airport?
Istanbul Ataturk International Airport is located 24 kilometers west of Taksim Square in the European part of the city, Yesil Koy neighborhood, Bakirkoy district. To know the exact location of this airport, you can refer to Google Maps and search for the airport's name.
Where is Istanbul's new airport?
Istanbul New Airport, also known as Istanbul, is located in the north of the city center of Istanbul (Arnaut Koy area), 35 km away from the city.
How many airports does Istanbul have?
Istanbul currently has three airports. Two airports, Atatürk, and Sabiha Gokcen are fully operational, and the new airport will start operating instead of Ataturk.
What is the area of Istanbul airport?
Istanbul's new airport is still under construction. According to the officials of this country, this airport will be ready for operation in 2028; the area of this airport is 76.5 million square meters, which will accommodate six runways at the time of launch.