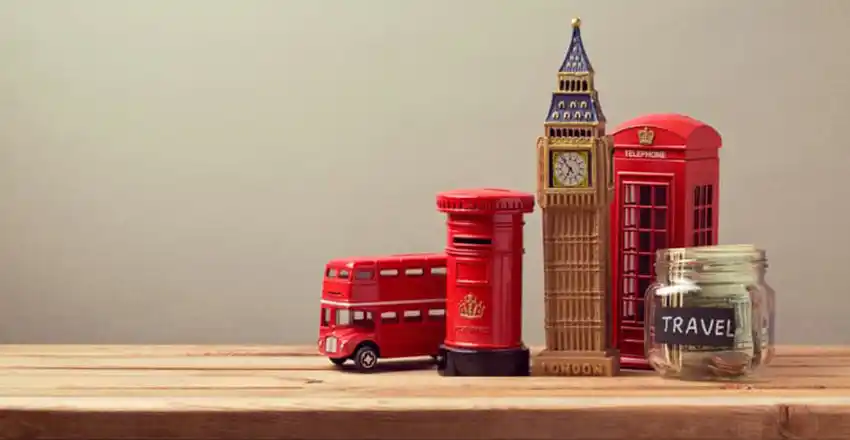 Would you like to travel to the heart of the world? Would you like to visit luxury and glamorous shops besides seeing historical, cultural, and tourist sites? If the answer is yes, we suggest you take an exciting trip to London—a beautiful city known for clothing and fashion and one of the most important cities in England. The shopping experience in London is really great because you can walk along the rainy and romantic London weather and feel a pure poetic feeling in your heart. If you love buying souvenirs, join us in this Nabtrip article to introduce you to London's most attractive souvenirs.
Paddington Bear
You've probably seen the movie Paddington Bear. A bear who travels to Britain to find a refuge. In London, there are kiosks where Paddington bears are sold. Since everyone loves Paddington bears, big and small, you can be sure to surprise your loved ones by buying these bears and other cute Paddington souvenirs.
Teddy Harrods' Bear
Dolls are always lovely for women besides babies. Teddy Harrods bears are beautiful dolls that you can buy as London souvenirs in various sizes and give gifts to your friends.
Replicas of the Mini Cooper bus and other London attractions
If you're looking for an attractive souvenir, be sure to buy mini Cooper buses. These buses are actually a kind of mini-Cooper mini-bus model that is beautifully designed. This London souvenir can be of interest to both women and men.
This beautiful and lovely bus was first built in Germany, but it also came to London because of its popularity. To get this toy replica, you have to go to the Fancy That Gift Shop on Hey Market Street.
Apart from buses, you can also bring beautiful and detailed replicas of the sights of London to your loved ones. Replicas such as Buckingham Palace, the London Clock Tower, and so on delight everyone. Of course, you can also make cups and keyrings with the designs and shapes of London's attractions. These attractive products aren't expensive, so London souvenirs are viable and very affordable options.
Sherlock Holmes Photo Frame
Sherlock Holmes is the famous crime detective that many of you are familiar with. In London and Marylebone Street, there is a cafe with the name of this famous workshop that you can visit. This cafe is also a type of residence. Everything even the way we bring food reminds you of Sherlock Holmes' criminal adventures.
It's not hard to find, because on the front end is a picture of Sherlock Holmes hanging and easily recognizable. You can smell the pipe of a criminal detective in this place. If you're a Sherlock Holmes fan, you can buy pictures of this mysterious workshop and take them home as a London souvenir.
London Bridge at Button
In London, buttons are sold emblazoned on the backdrop of London Bridge. These buttons are designed to be mounted on the sleeve heads. You can buy this London souvenir at the British Museum. In this beautiful picture, the famous bridges of London are painted in black and along the ancient river of London.
Kashmir Shawl
One of the best souvenirs in the UK for a good-looking lady is the Kashmir scarf. This is sold in all London stores. Obviously, its colorful colors are the first thing that will dazzle your eyes.
The Liberty Clock
Knit or cloth watches come in a variety of designs and colors that are the most suitable London souvenirs for a lady. In addition to the high variety of designs and colors that attract the attention of every lady, the show's unique golden hands give it a charming look.
To buy these watches, you have to go to the Liberty Store. The store, located on Great Marlborough Street, is a mine of fabric strap watches. You can find all kinds of hours in this store.
Fashionable clothing
As I said at the beginning, London is the heart of the world. There are many and certainly attractive stores in this city where you can find a variety of clothing, clothing, jewelry, bags and … And put them in there. There are famous brands in these stores that are unique in terms of quality.
It may be a little expensive, but don't be afraid. Because you can find good quality goods and a better price. To buy clothes, scarves, bags, etc. Branded and reasonably priced, you can visit Mulberry and Burberry stores and get your products at 15 to 60 percent off.
Memorial compartments
The compartment of one of London's most popular souvenirs lies behind the romantic story. When Prince William found his lover and married her, he dedicated this beautiful and colorful compartment to his wife as a memorial. This beautiful chamber became popular among the people as well.
Of course, the designs and shape of this commemorative compartment remind us of Chinese art. Because the original design came from China. This one-inch enclosure is decorated with silver and gold colors and pieces. To buy these popular souvenirs, you can go to The Royal Mews Shop in Buckingham Palace.
Perfume and Jewelry
One of London's best and most popular souvenirs is its perfume and jewelry. If you want to buy a special gift for a particular person, we recommend buying a London fragrance with a memorable fragrance. Jewelry and watches are also another favorite souvenir of the City of London.
Fortnum and Mason Tea (Fortnum & Mason)
Undoubtedly, tea is one of London's most popular souvenirs. You can bring tea packs to souvenirs with teapots and well-watered and colored cups found in abundance in London. One of the most famous stores where you can find coffee, tea, herbal drinks, tiramisu, hot chocolate, etc. Find it in Whittard's store.
If you are looking for a traditional tea, PG Tips and Tetley brands are the best choice for you. Another popular brand for younger people in London is Whittard of Chelsea, which we suggest you try once in a while.
But the most popular brand found for tea in London is Fortnum & Mason tea. To make this tea, you have to go to the London store on Piccadilly Street. In addition to tea, there is a fascinating and strange watch in the London store that is a must-see for your trip.
Monmouth Coffee
If you're looking for a London souvenir that is popular and popular, the best option is Monmouth coffee. The drink is so popular among the people of London that they queue to buy it. You can find this coffee at Borough Market, Covent Garden and Bermondsey.
Chocolate and biscuits
As a British souvenir, you can make delicious biscuits and cookies with different brands. Don't worry about the price of these delicious foods, because they are not expensive. If the person you are a souvenir for is a chocolate lover, you can bring the world's best and most delicious chocolate with very beautiful packaging.
The most popular chocolate brands in London are Cadbury, Dairy Milk, Aero, and Wispa. You can also take Jaffa Cake biscuits and Hobnob for your belly loved ones.
Cosmetics
If you want to take a London souvenir for a lady, the best option is to choose cosmetics. There are two major and famous cosmetics stores in London where you can buy the best international and English cosmetics.
Book
We have learned from ancient times that the best language friend of man is a book. This seems to be London's most useful souvenir. These books are written in English. You can also bring beautiful postcards to your loved ones. Music tablets, attractive frames, and cultural posters are also other souvenirs you can make for your loved ones.
James Smith and Sons
There is a shop in London where only umbrellas and canes can be seen. This colorful store, located on James Smith and Sons Street, has been in operation since 1830. Of course, given the ever-rainy weather in London, it must be James & Boys' shop, so that people don't go without umbrellas and get wet. You can buy these beautiful umbrellas for yourself and your loved ones and take souvenirs.
Oyster Card
In London, just like any other country, you need a vehicle to get around the city. So you can buy an Oyster card. You must be asking what kind of souvenir this is. You can leave this card to remind yourself of the good memories of your trip to London.
Lock & Co
The most famous brand that produces hats in London is Locke and Coe. The brand has been on the market since 1786 and has been producing its most popular products ever since, which is very popular. The Lac and Co hat has had many historical honors. Charlie Chaplin, for example, was buying the brand's hats. And even more interestingly, Churchill had bought his wedding hat from the brand.
Ben's House
If you are looking for processed products, unique inventions, and innovations as a London souvenir, be sure to visit Bonn Hall. This room, which looks like a wand shop in the Harry Potter movie, can be found on Warren Street. Here you can find all kinds of drinks, cheeses, meat, household appliances, and more. Find out.
London M&M World
This famous brand in London has many products such as toys, sleeping and make-up, earrings, necklaces, etc. It produces. This brand operates in five parts of the world. If you like, you can order a special product for your loved ones and thus buy London's most beautiful souvenirs.
Antique & Classic Accessories
London is a historic city with a rich and long culture. So you can remember classic beauty accessories as souvenirs for your loved ones. You can find these valuable souvenirs in antique markets like Old Spitalfields Markets, Camden, and Brick Lane.
Parliamentary Shopping Center Products (Houses of Parliament)
If you want to remember a genuine souvenir for your loved ones, be sure to visit the House of Parliament shopping center. In this shopping center, products are sold that have the stamp of the UK government, which conveys the sense of authenticity of the product to the buyer. The store is located in front of the Big Ben store. House of Commons notebook, playing cards, tea flasks, etc. The products of this shopping mall.
Museum souvenirs
There is a store in London where you can buy beautiful historical and cultural products. If your loved ones love historical and antique products, you can remind them of London's best souvenirs. You can check out the British Museums and the V&A Museums.
Emma Bridge Water
One of the most beautiful dishes you can bring to a lady as a London souvenir is Emma Bridgewater's mugs. Not to mention that you can also see beautiful designs of Emma Bridgewater on plates, bowls, and pitchers. The design of these beautiful dishes is done by a woman named Emma and her husband, who is very popular in London.
The stores of these two museums sell products that are based on historical products and you can't find them anywhere else. Accessories such as accessories, earrings, necklaces, bracelets, household appliances, etc. of its historical products.
Products with Union Jack design
The whole of England is full of souvenir shops and boutiques. In the meantime, you can find clothes, hats, and keyrings that are embellished with the British flag design, which are called Czech Unions. These products are perfect for forgetful people who choose to buy souvenirs at the last minute.