Have you ever thought about how fascinating Paris can be in September? If so, then undoubtedly, September is the month you should visit Paris and witness the beauty of this city while stepping on yellow and orange leaves. With the scattering of the summer population, Paris has become a captivating land of wonders and is ready to host many travelers, each with different tastes. In September, Paris becomes a mesmerizing symphony of romance, culture, and unparalleled charm. Whether you are an experienced explorer or visiting for the first time, this enchanting city offers a collection of experiences that will leave an indelible mark on your heart.
From savoring delicious pastries in quirky cafes to strolling through world-famous museums, every moment is a masterpiece waiting to be enjoyed.
Why is September the best time to travel to Paris?
September, the month that marks the end of summer and the beginning of autumn, is undoubtedly the best time to experience the true essence of Paris. As the scorching heat of summer fades away and the autumn colors begin to paint the landscape, this enchanting season offers a harmonious combination of pleasant weather, fewer crowds, cultural events, and a vibrant atmosphere that makes it the ideal time to visit Paris for many.
Firstly
The weather in September is simply delightful. The scorching heat of summer gives way to milder temperatures, creating a comfortable and enjoyable environment for exploring the city. The days are often warm and sunny, while the evenings bring a refreshing coolness, making it perfect for leisurely walks along the Seine River or in the city's charming neighborhoods.
Secondly
September witnessed a decrease in tourists compared to the peak summer months. With the return of schools and many travelers returning home, the city becomes more accessible and less crowded. This allows visitors to enjoy all the city's beauties without the hassle of long queues and overcrowded attractions.
Thirdly
Paris becomes a cultural haven in September. The city comes alive with various events, festivals, and exhibitions. From Paris Fashion Week to the Food Festival, there are plenty of opportunities to celebrate art, fashion, food, and music alongside the locals.
Moreover, September offers an exceptional opportunity to witness the Parisian way of life in its natural rhythm. With the return of the residents from their summer vacations, the city regains its authentic ambiance. You can immerse yourself in a more genuine experience, interact with Parisians in their daily activities, and enjoy the authentic Parisian lifestyle.
Finally, September showcases Paris in all its autumnal splendor. The changing colors of the leaves, parks, and gardens throughout the city, such as Luxembourg Gardens and Parc des Buttes-Chaumont, transform into enchanting havens of beauty. The autumn foliage complements the architectural wonders of the town, creating stunning views at every turn.
Weather in Paris in September
In September, Paris experiences a delightful transition from the intense heat of summer to the embrace of a comfortable autumn. With shorter days and milder sunlight, the city begins to cool down and offers a more pleasant and appealing atmosphere for visitors to explore.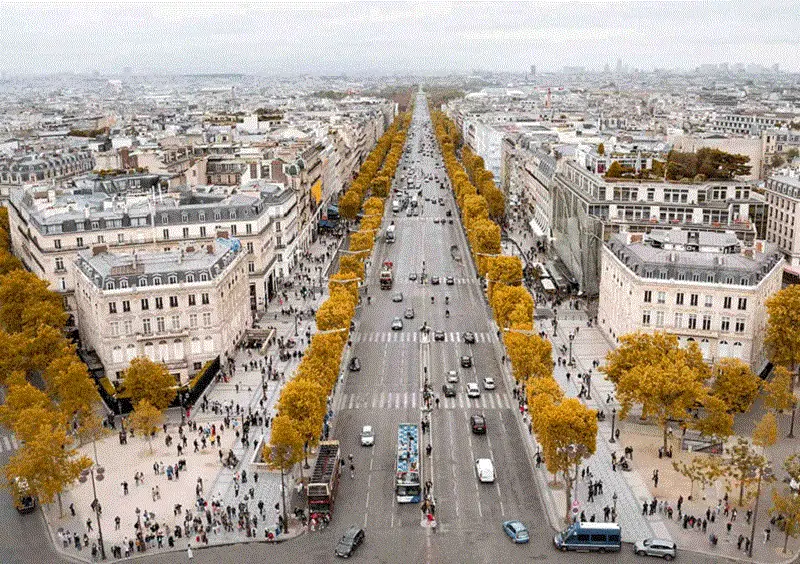 Warm days and mild evenings
Throughout September, Paris enjoys a moderate climate, with temperatures ranging from around 16 to 22 degrees Celsius (61 degrees Fahrenheit to 72 degrees Fahrenheit) during the day. The weather is generally mild, allowing travelers to discover the city's attractions quickly, stroll through charming neighborhoods, and participate in various outdoor activities.
Appropriate Clothing for September in Paris
When preparing for a trip to Paris in September, consider lightweight layers to adapt to the changing weather. Bring t-shirts, blouses, and light jackets that can easily be layered and adjusted with temperature fluctuations. Don't forget to have comfortable walking shoes with you, as Paris is a city best explored on foot during September.
Short but enjoyable rain showers
While September is mainly known for its pleasant weather, there may be occasional light showers. Visitors should be prepared with a compact umbrella and a lightweight rain jacket to stay dry during any unexpected rain spells and ensure they can continue their exploration without any hindrance.
Festivals in September in Paris
Paris Fashion Week: Glamour, Glitz, and High Fashion
September signifies the return of Paris Fashion Week, a global event where top fashion designers showcase their latest collections. Be witness to the glamour, style, and creativity that define the fashion capital as the city transforms into a runway for high fashion and popular clothing.
Techno Parade: A rhythmic street party
For music and dance enthusiasts, the Techno Parade is a must-attend event. Taking place in mid-September, this vibrant procession features music floats, dancers, and DJs, creating an energetic street party that pulsates through the heart of Paris.
Heritage Days (Journées du Patrimoine): A Glimpse into Paris' Past
Heritage Days provide a unique opportunity to discover the city's hidden treasures and cultural landmarks. During this weekend event in September, many typically closed-off locations, such as historic buildings, government institutions, and private residences, open their doors to the public, allowing visitors to immerse themselves in Paris' rich history.
Fête de la Gastronomie: Delighting Food Enthusiasts
Food enthusiasts rejoice at the Fête de la Gastronomie (Gastronomy Festival) in September. This delicious event celebrates French cuisine and culinary traditions with delectable markets, cooking demonstrations, and tasty delights throughout the city.
Paris Biennale: The Artistic Showcase
Art lovers should not miss the Paris Biennale, a prestigious art exhibition held in September. This event attracts connoisseurs and collectors alike to the Grand Palais to experience an extraordinary art display featuring beautiful artworks, antiques, and collectibles worldwide.
Nuit Blanche: A Night of Art
Nuit Blanche, meaning "White Night," is an enchanting all-night art festival in early September. As the city transforms into an open-air art gallery, installations, performances, and various exhibitions are scattered throughout the streets, creating a surreal and inspiring nocturnal atmosphere.
Jazz à la Villette: Celebrating Jazz Music
Jazz enthusiasts will delight in the Jazz à la Villette festival held in Parc de la Villette. This event showcases a range of jazz musicians and bands, presenting a collection of concerts and performances that celebrate the timeless nature of this music genre.
Silhouette Festival: Short Films Under the Stars
The Silhouette Festival offers a magical cinematic experience under the open sky. Held in Parc de la Butte du Chapeau Rouge, this festival presents a selection of short films from around the world, creating an engaging evening of storytelling and cinema.
Paris Design Week: Innovation and Creativity
In September, design enthusiasts can explore the world of modern design during Paris Design Week. This event features exhibitions, installations, and design-related activities highlighting innovation, craftsmanship, and creativity in various design fields.
Open-Air Concerts and Street Performances
With the end of summer, Paris continues to embrace open-air concerts, live music, and cultural events throughout the city. From beautiful squares to captivating street corners, you can encounter impromptu performances that add to the city's vibrant atmosphere.
September in Paris brings together a delightful combination of fashion, music, art, gastronomy, and cultural celebrations, catering to different interests and tastes. Whether you witness the latest trends at Paris Fashion Week, dance to electronic beats at the Techno Parade, or immerse yourself in Paris' heritage during Heritage Days, the city offers an exciting array of festivals and events to enhance your autumn visit.