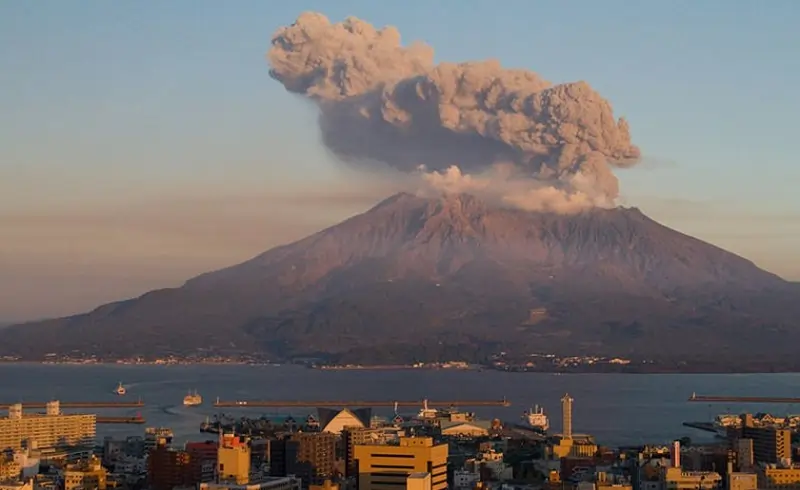 From the majestic Mount Fuji to an underwater volcano that formed a new island last year, there are 109 active volcanoes in Japan, about 10 percent of all active volcanoes worldwide.
About 70% of Japan is covered by different mountains. For this reason, its agitators play a vital role in Japanese culture and mythology.
Whether you want to watch a burning volcano from a safe distance or go to its dormant summit, Japan has stunning volcanic mountains that give visitors a unique experience.
Mount Asama
This mountain is located in the center of Japan's main island, Honshu, and is approximately 2568 meters above sea level.
Mount Usama is famous and known for the eruption that occurred in 1783. About 1500 people lost their lives in this volcanic eruption.
This mountain is the most active volcano in Honshu and recently erupted again in 2009.
Despite the potential of Mount Asama to erupt molten material, it is still the most popular summer vacation destination.
Visitors travel to this mountain to ski in the nearby valleys and use the natural hot springs.
Sakurajima
Sakurajima overlooks the historic city of Kagoshima on the island of Kyushu, formed by three volcanoes.
Among these three volcanoes, Minami-Dike is the most recently active.
This mountain frequently throws its ashes on the people of the city.
Adventurous travelers who want an up-close experience of a live and active volcano should visit this area. However, visitors are not allowed to climb the dangerous edges of the mountain.
Mount Unzen
Mount Onzen is located near Shimabara on the island of Kyushu.
The eruption of molten material from this volcanic mountain dates back 6 million years ago, but it has been inactive recently.
In 1934, a national park and a small village were established to welcome travelers and tourists.
In 1990, one of the volcanoes on Mount Fugen started erupting.
Today, the mountain is inactive, and visitors can climb to its 1,359-meter peak and enjoy the beautiful scenery.
Mount Aso
Mount Aso or Aso-san is five separate volcanic peaks.
Mount Aso is located on the southern island of Kyushu near Kumamoto and covers a vast area.
One of these five volcanoes named, Mount Nakadake, is still active and is considered the main attraction of this area.
Other peaks are also popular among people. People can have a short or long walk in this area.
Mount Fuji
Mount Fuji is less than two hours away from Tokyo and is one of Japan's most famous historical landmarks.
Usually, more than 300,000 people visit this area every year.
According to existing legends, Mt.Fuji was built in one day, and the latest volcano was formed on top of an old mountain about 10,000 years ago.
Climbing Mt.Fuji is very popular and a favorite among visitors.
There is also a post office on top of this mountain where tourists can send postcards to their loved ones from a height of 3,800 meters.
Travelers looking to pay less tax can use Tenjo Yama Park to see Mt.Fuji.