Qatar Airport is one of the famous international airports that has gained world fame for having the longest runways. The amenities of Hamad Doha Airport are so complete that you feel like you are in a shopping mall or entertainment center. If you are fascinated by Qatar's attractions and are planning to travel to this country, join Nabtrip Tourism magazine so that we can first check the airport that will host you.
Hamad International Airport, Qatar
This airport is one of the modern and well-equipped airports that is the central hub of Qatar Airways. All incoming and outgoing flights to Qatar are made through Qatar Airport. The establishment of Hamad Airport dates back to 2014, and before this date, all Qatar Airways flights were operated from the international airport.
The opening of Hamad Doha Airport has made the country of Qatar able to respond well to the number of tourists. This large airport with 2,200 hectares manages and transports 50 million passengers annually. In the following, we will examine the facilities of Qatar Airport to experience a comfortable trip.
Qatar Airport visa and immigration services
Various visa and immigration services are also provided at this airport, making it easy for everyone.
Getting an airport visa
If you are traveling to Qatar with your passport, you can get a one-month Qatar residence visa in the form of a Qatar airport visa upon arrival. The visa and immigration department of Hamad Airport in Qatar allows you to receive your one-month residence visa and extend it for another two months if needed.
The easiest way to pay the visa fee is to use a credit or debit card directly at the immigration counter. Use the designated bank counter to pay the visa fee in cash if you want.
Hamad Airport Security and Customs in Qatar
It doesn't matter if your plane ticket is for entering or leaving Hamad Airport; In any case, observing the following points will lead to a more comfortable trip. Before checking and delivering your luggage, your handbag will be reviewed, and you must not bring the following items with you:
Firearms and ammunition
alcoholic drinks
Pork products
drugs
Toys similar to guns and firearms
Explosive and incendiary materials
Sharp objects with a blade longer than 6 cm
Customs check at Qatar airport
If your cargo has no problems with the mentioned items, you can choose the green gate to pass; But if there is a problem, go through the red gate. To pass through the red gate, you must bring the following items:
Alcoholic beverages (you cannot carry them to the destination under any circumstances.)
Carrying more than the allowed amount of currency, gold, jewelry, and precious stones
Carrying firearms is prohibited and restricted
Possession of illegal substances
Taking more than 400 cigarettes
Control of personal items and gifts valued at more than USD 825
If you do not have enough information to pass through the desired gate, ask a customs officer for help to guide you well. Be honest in expressing your data; otherwise, your property may be registered and confiscated.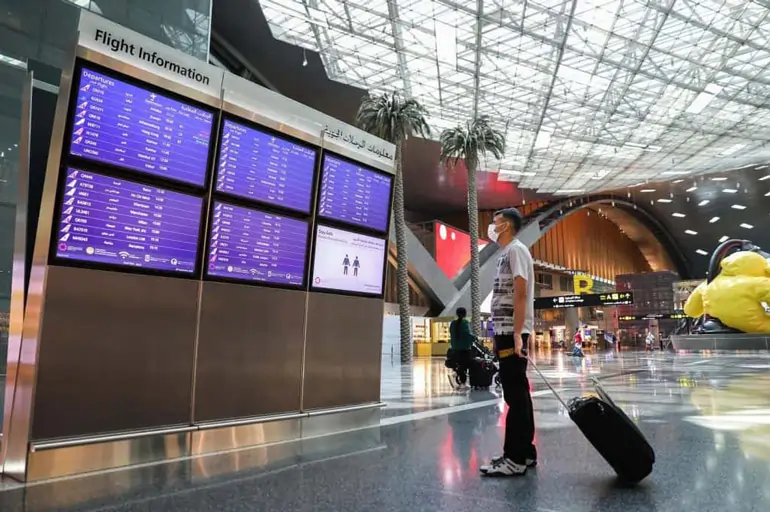 Amenities of Qatar International Airport
This airport has various facilities and services that make passengers feel pleasant during their stay there.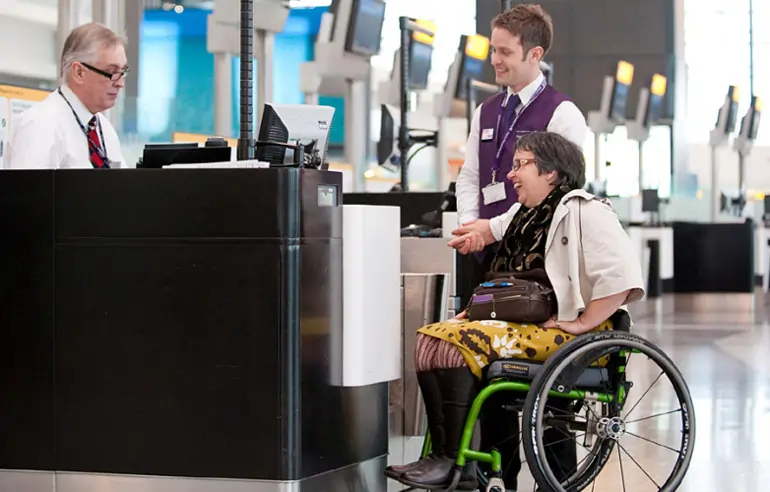 Help desks and passenger services.
Have you lost your flight ticket? Don't worry because the assistance and service desks at Hamad Doha Airport will allow you to print your boarding pass again, and with their help, you can have a proper plan to continue your trip.
Accommodation in Qatar Airport hotels
Does travel fatigue bother you? Qatar International Airport offers four-star hotel hospitality for short stays of five hours. You can also use the massage chairs to relieve fatigue and its luxurious pool for a refreshing dip. If you are behind in your exercise program, this airport's health center will help you get in shape during your trip.
Free internet at Hamad Airport
There is free Wi-Fi or wireless internet throughout the airport, which is provided to you on an unlimited basis. Also, in addition to internet kiosks, there are several computers for you to use to meet your needs.
Restaurant and coffee shop at Doha Airport
There are more than 30 restaurants and coffee shops in Hamad Airport that provide a wide variety of food from all over the world to satisfy the needs of picky eaters. Before your flight, invite yourself to a coffee with cake or food of nations to enjoy this environment more.
Qatar Hamad Airport lounge
Do Qatar airport monitors show your flight delay? Turn this time into an opportunity with a lounge. A part of this hall is available to passengers for free, But the other part, which has more features, you have to pay a fee to use it. This hall has lounge chairs with soft light to have a relaxing time.
Exhibition Hall at Qatar Airport
Make the most of the opportunity you have at Qatar Airport. Art is an integral part of this airport, where you will experience an immersive and innovative visual experience. Hamad Exhibition Hall is a place for holding permanent and temporary exhibitions so that you can enjoy its services.
Entertainment places for children
The entertainment available for children at Qatar International Airport differs from that for adults. Five activity groups in this place are designed for children of all ages, including a playground, television, internet, toy stores, and various foods. In addition to these things, the design of the parents' room allows you to take care of your baby in peace.
Duty-free stores
More than 70 retail stores in this place provide travelers with a unique variety of electronic products, cosmetics, accessories, etc. If you don't have enough time to shop, express stores will help you.
Necessary measures for flights from Hamad Airport, Qatar
About 3 hours before the flight, the procedures related to the preparation of the flight card begin, and you can do these procedures up to an hour before the desired time. Please note that passenger acceptance is done up to 60 minutes before the flight; after that, you cannot get a boarding pass.
The documents required to fly from Qatar Airport are:
Ticket
Passport
exit permission
Destination visa
If you are using first class or business class for comfortable travel, entrance door number one of the departure hall is reserved for you. On the other hand, if you are an economy passenger, you can leave the hall from entrance doors 2 and 3 and get to the airport bus and cars.
Trolleys are free for passengers, and porters will charge you a fixed fee if you ask for help. Pregnant mothers who are more than 28 weeks pregnant must bring their medical permission for air travel.
Baggage delivery
To collect your baggage, be near the conveyor belt mentioned in your flight information. Next to each conveyor is a large monitor where the information specific to your flight is recorded.
Delivery of pets at Qatar airport
If you plan to travel to Qatar with your beloved pet, the airlines will deliver these lovely creatures near the desired conveyor belt. If you encounter a problem, discuss your issue with the nearest transportation service office, and be sure to read the conditions for transporting a pet by plane.
Damaged or lost baggage
If your luggage has a problem during transportation or you cannot access it, report it to the nearest airline.
Transportation at Hamad Doha Airport
One of the things that confuse travelers and tourists from different countries is transportation and transportation, and Hamad International Airport solves this problem for you with a wide variety of facilities.
Bus
If you are looking for an economical option, the bus stops outside the arrival halls are the best option. There are two routes for the buses at this airport:
Route 109 starts from Hamad Airport and goes to Masayed Industrial Zone
Route number 747 goes from this airport to the Al Ghanim bus station.
To use the buses, you need to get the Karva smart card. You can go to the airport information section to get this card.
Metro at Qatar Airport
The metro will take you to your destination faster than the bus. To use the subway to reach the airport, it is necessary to pay attention to the red color of the subway map lines.
car rental
SupposeSuppose you are one of those travelers and tourists who want to have different facilities available when they arrive in Qatar. In that case. In that case, we suggest renting a car provided to you under particular conditions. The car rental office is outside the entrance hall, where you can choose the desired car model.
Taxi
The taxi stand is located outside the terminal building. The cost of using a taxi is calculated based on the odometer. Of course, remember that airport taxi fares are higher than bus tickets.
Limousine reservation
Are you looking for luxury conditions to record the experience of a royal trip in your mind? You can use the Doha airport facilities to reserve a limousine. In the transportation section of the airport, unique desks were considered for limousine rental.
Almaha service at Qatar airport
This service has considered special facilities to welcome the passengers of this airport. Using the Almaha service at Hamad Airport, you can carry out all the benefits, including passport, check-in, flight card, baggage handling, etc., with ease and minimal effort.
---
common questions
What services are available at Qatar airport?
Passenger service counters, hotels, free internet, restaurant and coffee shop, lounge, exhibitions, stores, and children's entertainment places are among the services of this hotel.
How is the transportation at Doha Hamad Airport?
You can use the subway, bus, taxi, and rental car at this airport.
What are the documents required to fly from Qatar airport?
These documents are tickets, passports, exit permits, and destination visas.