Angry Birds Park is located in Doha Festival City, Qatar. This park is full of attractions and entertainment that will give you an unforgettable experience. Make a day of adventure for yourself by climbing the 17-meter big tree! The karting track, various foods and drinks, and various rides await you. With various exciting and adventurous activities, what more could you want for fun?
Angry Birds Parks
Opened in 2017, Angry Birds World Park in Doha offers unique entertainment. This park has an area of about 17,000 square meters and 6,500 square meters of indoor space. The inner part was opened for families going to this park. The character Angry Birds is the park's main feature, making it an entertainment pole for children.
The name Angry Birds and its game is known all over the world, as the popularity of the park is increasing day by day. This park has 20 exhibits about the famous Angry Birds game. For this reason, it attracts tourists and offers them the best adventure.
This tower, about 42 meters high, is one of the most fantastic shooting games for children. Tourists can enjoy the view of the whole area from a height of 60 meters and experience the ultimate excitement. In an interview, it was said that Angry Birds Park is a unique indoor and outdoor destination in Qatar and the world.
The purpose of building the amusement complex of Angry Birds Park was to promote tourism and attract tourists to enjoy the excitement and adventure in the world of Angry Birds. One of the best features of this entertainment attraction in Doha is that it is ideal for all ages. This collection features all Angry Birds-themed games.
Features of Angry Birds Doha theme park
This park is suitable for everyone; created with various fun games, rides, studios, theaters, and other attractions. Angry Birds World is one of the must-visit places in Qatar to enjoy the best adventure and entertainment. This park attracts many visitors every year.
big tree
One of the exciting amusements in Angry Birds Park is the big tree. Children and parents are attracted to this sizeable 17-meter structure. In addition, tourists can explore science and improve their knowledge of music and artwork with a wide range of educational content. This is the first indoor and outdoor karting track with an innovative multi-level playground. You can also play basketball and other sports.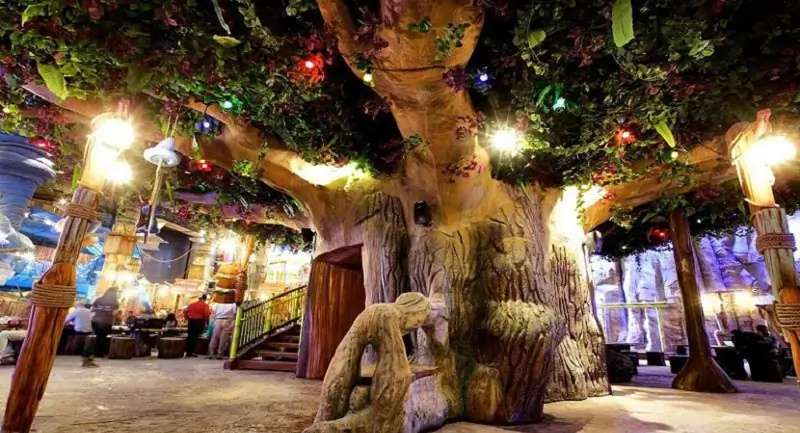 City Studio
One of the things you must do in Qatar is to visit the city studio in the theme park. Tourists can participate in rock climbing, spiral slides, roller gliders, and power ropes and test their abilities. One of the main attractions of the world of Angry Birds is the Angry Birds Trampoline Park, with an area of 1,300 square meters, where tourists can perform gravity challenges with the help of bouncy castles or enjoy playing baseball, foam pit, or children's playground.
red house
Tourists are often impressed by the exciting and different style of the Red House. Kids can experience some of the most fun sand play. Visitors enjoy a theatrical trip on the battleship, which continues from Bird Island to Piggy Island. The Angri roller coaster is the right choice for those looking for adrenaline. This thrill ride offers a fast and furious spin-in-the-air ride experience.
Exciting rides in the world of Angry Birds Qatar
In the following, we have introduced some of this park's best and most exciting activities. Fun that not everyone dares to experience.
explosive bomb
One of the most exciting and adventurous things to do in Doha is the bomb blast that will make your heart skip a beat. This is one of the most fantastic park games to throw you in the air. The ideal feature of the ride is its falls and twists that reach up to 11 meters.
People will feel the pull as they climb and fall as soon as they let go. Of course, to enjoy this ride, you must be at least seven years old and 120 cm tall.
Red alert
Red Alert is one of the most exciting rides that will remain in the minds of tourists for a long time. The twists and turns and the furious journey is something that people should experience. Red alert is among the most beautiful and adventurous things that attract thrill seekers.
The ride features an image of a boar derailing and heading for its lair. So if you are strong and brave, we invite you to this challenge. The Red Alert game is allowed for people over seven years with a minimum height of 140 cm.
Jumping blues
Meet the exciting, fun, and adorable blue triplets of the Angry Birds family and embark on a cage-flying adventure. Experience sharp turns and jumps with jumping waters. Riding is the best way to enjoy free time with family members. You must be at least seven years old and 80 cm tall to ride.
Pirate beach
Armored vehicles with a unique theme ensure you enjoy the open sea where the enemy will face. Tourists will experience the conflict between birds and pigs and the thrill of visiting a theme park. Target your friends with a bean and play. This ride is for ages 7+, and you must be at least 90cm tall.
Angry Birds Karting
One of the most enjoyable experiences in life that people should try is go-karting, as it raises adrenaline levels and makes hearts beat with joy and excitement. Karting is one of the most popular multi-dimensional indoor and outdoor competitions that attract people worldwide.
Angry Birds Karting is an experience similar to real karting, where you have to control the cars by slowing down and increasing power. People over seven years old are allowed to use this game.
Things to do in the world of Angry Birds
If you want to enjoy being in Angry Birds Park, don't miss these things.
1. Enjoy the outdoors
Riding on the excellent zip line that launches you into the air is thrilling. The outdoors is an enjoyable adventure. You can even ride the Raft Battle River, which has eight rafts with climbing ropes and roller gliders. Along with fun and entertainment, we suggest you try some local dishes in Qatar restaurants.
2. Jump in the trampoline park
You can find the best trampoline fun on Qatar's second floor of the Angry Birds World. With all kinds of entertainment, tourists will not be bored even for a minute, as many activities can be enjoyed, such as playing basketball.
3. Enjoy your bird day
Angry Birds Qatar has prepared a big hall for children's birthday parties. The gallery has several rooms with a medieval theme. There is a lot of space; people can choose any room and have a dance or yoga session. Of course, you should consider the time to eat the cake.
4. Climb the big tree in Angry Birds Park
The first thing you notice when you enter is a large tree with several levels. The Big Tree is a variety of workshops for kids who can learn the basics of science, hone their musical talent or develop their creativity. It also has a small dam and a roller glider for adventure.
5. Have the best time with bumper cars
Put on your helmet and ride the armored cars. The Angry Name Birds is creative and cute, as these angry red creatures race by hitting other cars. You can get out of the vehicles if you get frustrated with this game.
6. Eat foods with different themes
When tasting local cuisine, you can grab a bite to eat at 11 food and beverage outlets in the park. There are cafes around the park that only serve themed food. You can order various Mexican and South American dishes from the menu.
You can even try tacos. There is also an ideal place to sit, which allows people to keep an eye on their children while they play. You can sit and drink a cup of coffee.
Interesting Facts about Angry Birds Park Qatar
The world's first Angry Birds Park
A fun destination for the whole family
Working hours in Ramadan – 19:30 to midnight
Entrance fee – 150 Qatari rials
Located in Doha Festival City
More than 17,000 square meters of excitement and fun
More than 20 quality rides and attractions
Main indoor attractions: Big Tree, Roller Glider, Trampoline, which is made of a play center including a basketball court, foam pit, children's playground, and more than 70 games.
Major outdoor activities: 42m Super Slingshot, Raft Battle River with eight boats, and 1125m2 Studio City with climbing ropes and three roller gliders
Angry Birds Go karting track: 261 meters indoor and outdoor racing track, 11 game environments. Karting is one of the most popular multi-dimensional indoor and outdoor competitions that attract people worldwide. Angry Birds Karting is an experience similar to real karting, where you have to control the cars by slowing down and increasing power.
Party hall for various occasions such as birthdays
More than seven food and drink options
450 square meters of the total area of the leading and official stores of Angry Birds
Visiting time and entrance fee in Qatar Angry Birds Park
Angry Birds Park is one of the places you can see with your loved ones in Doha. This park welcomes domestic and foreign tourists; its entrance fee is about 250 Qatari Rials. There are specialty cards, individual cards, and birthday packages for kids to spend a day with their favorite Angry Birds characters.
The working hours of the park are from Saturday to Wednesday from 10 am to 10 pm and on Thursday from 10 am to 12 pm. Angry Birds Park is open from 1:00 pm to 12:00 pm on Friday.
The world of Angry Birds Doha is an adventurous and exciting place and ideal for a family vacation. Tourists can enjoy a full day of riding, eating in restaurants. You can buy accessories from the park and take home your favorite bird as a souvenir. We suggest you book your ticket to Qatar.
---
common questions
When is the time to visit Angry Birds World?
Saturdays to Wednesdays are from 10 am to 10 pm, and Thursdays are from 10 am to 12 pm. On Friday, the park is open from 1:00 pm to 12:00 pm.
How much is the park entrance fee?
The entrance fee for the park depends on the selected packages.
When is the best time to visit Angry Birds World?
December to February, when the weather is pleasant, is the best time to visit Angry Birds Park. Visitors can spend a whole day in this park.
Which adventure activities should you try in Angry Birds World?
One of the best amusements in this park is karting, which you must try.