When I looked for water parks in Qatar, I found that the country has only one. I will introduce you to an all-around water park: Doha Qatar Water Park; you might ask, why all-around? Because in this water park, you can experience different emotions. Aqua Park Doha is the right choice for you whether you are looking for relaxation on a calm surface, whether you want to surf, ride an exciting slide, or even drink by the blue waters.
A family vacation with children and the whole family has a different feeling. A family trip to Qatar with children may be a luxury, but this country has countless options for good family fun. Doha Qatar Water Park is designed to attract and entertain families, especially children, where they can enjoy their moment for hours.
It is better to go to the article's main point and leave the introduction aside; this article from the tourism magazine Nabtrip is dedicated to Doha Water Park, Qatar. In this article, I have explained everything you need to know about Doha Qatar Water Park, from the introduction of slides and park facilities to working hours, etc.
An African-style village
A water village is located in the center of Doha Water Park, Qatar, connected to other parts of the park by a wooden bridge. In this village, slides have been built in the shape of different animals that children will love. The town is full of umbrellas where guests can relax for an hour under their shade and watch the children play and be happy.
boat riding
One of the attractions of Aqua Park Doha is a space-themed boat that slides from the top of a 20-meter tower into a rainbow glass tunnel. The exciting part is that the tunnel length is about 150 meters, and at the end, the boat leads you to a large water pool.
Pirates game room
Regarding water parks, I think the pirate game is the best for this exciting situation. Doha Qatar Water Park has a pirate-themed play area. Pirate Bay is a kid-friendly adventure filled with colorful slides and a giant bucket of water that spills over kids' heads. As an adult, you probably want to become a pirate for a few hours in this water park!
wave pool
One of the attractions of Aqua Park Doha is the wave pool. This wave pool has six wave patterns with different intensities that turn the space into a turbulent and exciting sea in a few minutes and give you the feeling of Robinson Crusoe[1] among the wandering waters.
calm river
The calm river runs around the water park, and if you are tired and need to rest, you can ride floating boats in the river. This boat ride is a safe option for children due to its low water speed and shallow depth.
Restaurants and shops
Part of the space of Aqua Park Doha is dedicated to various restaurants, cafes, and shops.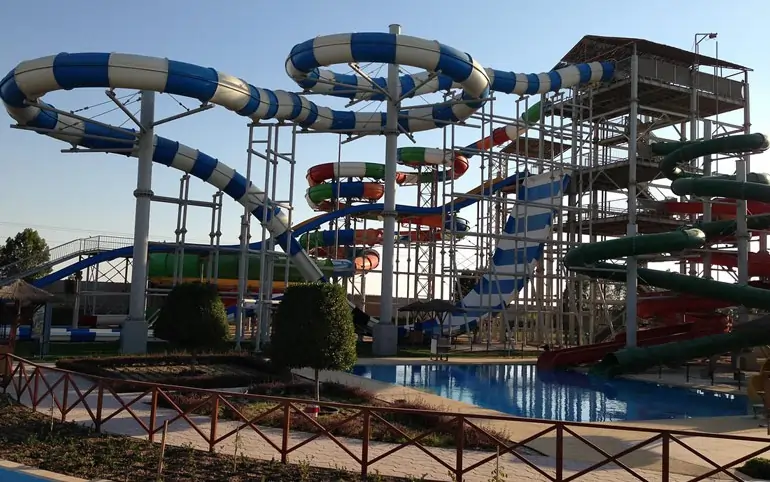 Slide tower
The slide tower is a three-story structure with many slides. If you haven't felt adrenaline in your veins for a long time, these steep slides are the right opportunity.
The best slides of Doha Qatar Water Park
Doha Qatar Water Park is a park with an area of 50,000 square meters and is the only water park in Qatar with various slides and entertainment for the young and old. This water park has more than 15 exciting water attractions and slides, including a swimming pool, river, boating, etc., and with its various facilities, it has millions of visitors every year. In this section, I tried introducing some of the best slides and entertainment in Aqua Park Doha to make your choice easier.
Swamp pool
The lagoon pool is the best place to relax in the water park. This section is a family pool surrounded by various cafes and restaurants. You can also relax with a cool drink and watch other people's activities.
Jacuzzi Cave
The jacuzzi cave is located in a beautiful and peaceful environment and gives you a few minutes to relax and enjoy the flow of calm waves.
Boomerang
Boomerang is one of the best slides in the Doha, Qatar water park. This slide is a twisting thrill ride that throws you at speed into a large pool. This adventurous trip is an experience you must try.
Speed lines
The water park's speed slides are an exciting high-speed race between you and your partner. The slope of the speedway slides is very high, and you must spend a lot of effort trying it.
surfing
Surfing in the water park of Doha, Qatar, with its scary curved wall, is one of the adventures of the park. This ride is the closest experience to actual surfing in the raging sea.
Tubular slide
This slide is something like being thrown from a height of 20 meters, with the difference that you feel comfortable about the end of the path and the immense pool of water waiting for you.
boat riding
Boating is one of the fun water park games for children. In this episode, kids sail their boats and race against others.
Children's driving school
Children's Driving School is a place your children will love. In this part of the water park, children can learn to drive their favorite vehicles under the supervision of an expert. Children's driving school teaches safe driving instructions to children and teenagers and has a fun aspect at the same time.
Facilities and features of Aqua Park Doha
As I said, you will experience an exciting family day at Doha Qatar Water Park. This water park has various facilities and services that make it easy to have a fun day and provide a unique atmosphere for everyone.
In this section, I will introduce some of these facilities and features so you can know more about them.
Water park facilities
Doha Qatar, Water Park facilities include dining, various shops to buy gifts and toys, restrooms, 400 lockers to keep valuables safe, and a dedicated food court with a selection of the best restaurants in the city.
If you are hungry, treat yourself to a delicious snack or drink a large glass of excellent juice. The water park restaurants offer their guests a wide range of different dishes and food.
Celebrations and special events
Doha Qatar Water Park is a perfect place to celebrate. The water park complex has designated specific days as Women's Day, Family Day, etc., so people can gather for special events and celebrations by buying discounted tickets.
This has made more people visit the water park, and the atmosphere has become lively and happy. Usually, Saturdays every week from 10 am to 8 pm are dedicated to family days. You can contact the collection in advance to participate in this ceremony.
Qatar Water Park ticket price
Doha Water Park ticket price varies depending on the age and height of people because each ticket is specific to games for a certain age and height category. You can buy your tickets online to avoid wasting time and convenience.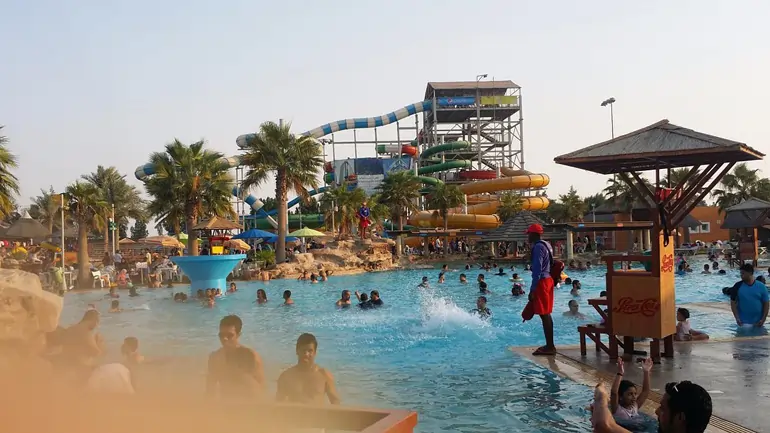 Working hours of Aqua Park Doha
The activity schedule of Doha Qatar Water Park is as follows:
Sunday to Wednesday: from 10 am to 8 pm
Thursday (Women's Day): 11 am to 9 pm
Friday: 10 am to 10 pm
Saturday (family day): 10 am to 8 pm
The water park is closed on Mondays.
Please note that Doha Qatar Water Park is currently temporarily closed. Therefore, before planning, check the activity status of the water park.
Essential tips for visiting Qatar's water parks
Doha Water Park is Qatar as one of the recreational places in Qatar; it welcomes all sections of society with any taste. Due to the popularity of this water park, some rules and conditions have been put in place for excellent safety and respect for others. These rules will help you to have a good time in the park with complete security.
Fifty lifeguards, 12 policemen, and 20 cleaning staff are constantly working to maintain safety in the park.
Qatar water park activities are divided according to age group and height. People are allowed to use the equipment according to the set criteria; this keeps all visitors safe from danger.
Appropriate clothing for the water park (unique swimsuit) is necessary for Aqua Park Doha, be aware that wearing t-shirts or other clothing is not allowed.
People under the legal age must go to the water park with an adult.
The water park may be closed for maintenance or seasonal holidays, so it is recommended to check its activity status before visiting.
The working hours of the water park may change based on the season and location, so we suggest you check the park's working hours on the website before visiting.
The water park has lockers and shelves to protect valuables such as mobile phones, cameras, and other accessories that you can use.
Access to Qatar Water Park
Doha Qatar Water Park has located 16 km from Doha, where you can use a taxi for easy access.
Address of the water park: Qatar, Doha, Exit 29 Abu Nakhleh, Salwa Road
Don't forget the water park!
The fact is that Qatar is a country that is known for its culture and wealth in the world, but it is better to know that the story is beyond these words.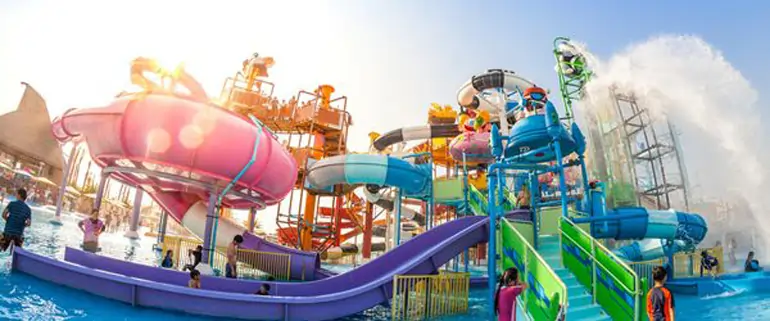 This country has diverse sightseeing and entertainment places that create an exceptional tourist experience. If you are fun-loving and looking for parks, entertainment complexes, and shopping centers in your travels, Qatar and its capital Doha provide you with this opportunity.
Now that you know enough about Doha Water Park Qatar, it's time to plan an exciting family vacation. The water park is an adventurous space with countless fun activities.
This unique combination has made Aqua Park a fantastic recreation place for friends and family. So the next time you book Qatar flights, consider buying water park tickets and a proper vacation.
[1] The most famous novel by the English writer, Daniel Defoe, in which the main character, Robinson Crusoe, survives a shipwreck at sea and remains alone on an island.
---
common questions
Where is Doha Qatar Water Park?
Qatar Water Park is located 16 km from Doha, Salwa Road.
How many water parks are there in Qatar?
Currently, Aqua Park Doha is the first and only water park in Qatar, which is famous for its exciting games and unique atmosphere.
What are the activities in the Qatar Water Park?
Qatar Water Park has more than 15 different slides, the most popular of which are Boomerang, Lazy River, African Village, Speed Slide, and Wave Pool.